To celebrate the launch of DiRT 2, Codemasters and DreamStation.cc have teamed up to bring you the DiRT 2 Contest. Codemasters has sent us one copy of DiRT 2 for each of the following systems: Nintendo DS, PlayStation 3, Wii and Xbox 360.
The DiRT 2 Contest is giving four people a chance to win one of those copies of DiRT 2. All you have to do to enter the contest is become a fan of DreamStation.cc on Facebook.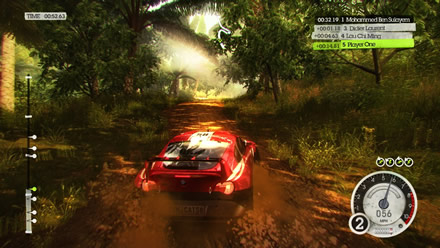 If you would like a chance to win DiRT 2 then read the details on how to enter below.
How To Enter
This Contest Has Ended.
Rules
No purchase necessary.
Only one entry per household.
Participants must be 21 or older or have parent's permission.
Contest limited to United States residents only.
You can only enter once. Multiple entries will be thrown out and cause for disqualification.
If you win your full name will be posted on the winners list on DreamStation.cc.
Contest ends October 31, 2009.
Winners Selection
The winners of each of the four game system versions of DiRT 2 (see below) will be selected at random from the people following DreamStation.cc on Facebook on or before October 31, 2009.
We will send you a message on Facebook after the contest is over to inform you if you are one of the winners. We will need you to send us a message back with your name and mailing address, so we can send you the game if you win.
Your mailing address and email address will NOT be used for any other purpose besides sending you your prize if you are a winner.
If a winner is unavailable for prize fulfillment an alternate winner will be selected at random from all remaining eligible fans.
Prizes
1 - DiRT 2 for Nintendo DS
1 - DiRT 2 for PlayStation 3
1 - DiRT 2 for Wii
1 - DiRT 2 for Xbox 360
For more information about DiRT 2 please visit www.DiRT2Game.com.
Comments [1]
Leave a Reply
You must be logged in to post a comment.