I played the Pokémon Trading Card Game (TCG) with a friend at work over 10-years ago when it came out in 1999, but stopped playing it around 2000 or 2001. Then in the Fall of 2009 I showed the game to my 6-year old son and he wanted to start playing it with me. We have been enjoying battling each other ever since and have also joined our local Pokémon Organized Play (POP) League that meets every Saturday at our local game store.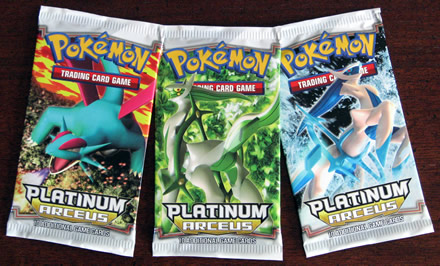 We have attended a few POP Tournaments and one of them was the Pokémon TCG: Platinum-Arceus Prerelease Tournament  where for $25 we were able to get 8 booster packs, special POP card sleeves, and a promotional Raichu card with a gold foil "Prelease" stamp on it. On top of all of that we were able to participate in the tournament after opening 6 of the booster packs and building a 40 card deck out of the cards we got. It was a fun event and allowed us to get the cards 2 weeks before they were released in stores. There were also door prizes available to win, but we didn't get any of those.
There is another Prerelease Tournament coming up for the new Pokémon Trading Card Game (TCG): HeartGold & SoulSilver at the end of January 2010. You can find out more about it, other tournaments, and find a league near you at Go-Pokemon.com.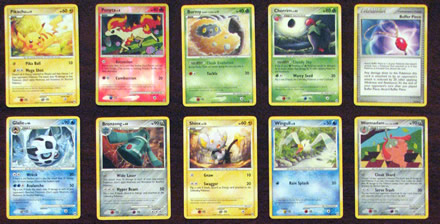 After attending the Platinum-Arceus Prerelease Tournament we received three booster packs for coverage on DreamStation.cc. Three booster packs only gives you 30 cards (10 random cards per pack), which is not a lot when you need 60 cards in a deck, but luckily we also went to the prerelease event and had a bunch of additional Platinum-Arceus cards available to play.
As expected, the biggest cards in this new card series are the Arceus cards. There are nine to choose from in each energy type, plus three LV.X cards. The other surprising addition to the series is that you can have as many Arceus cards in your deck as you like. Normally you are only allowed to have 4 cards of each Pokémon, but you could have 60 Arceus cards in your deck if you wanted. I wouldn't recommend that, since you would have no energy to do anything with them, but it is possible. Go-Pokémon.com has an All Arceus Deck Guide to get you started with creating a trading card game deck based all around the new Arceus cards available in this expansion.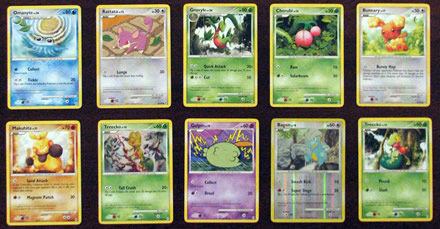 On top of the Arceus cards, there are a few cards that will help you with your team of Arceus cards. There is a trainer card called "Beginning Door", which allows you to search your deck for an Arceus card and put it into your hand. Then you can use the stadium card named "Ultimate Zone" to move energy cards from your benched Pokémon to your active Arceus card. Both of these cards are recommend to use in a Arceus related deck.
Another trainer card included in the Platinum-Arceus expansion that I have been using is called "Expert Belt". This card is a Pokémon Tool card and adds 20 hit points (HP) to the Pokémon it is attached to and it also makes the attacks from that Pokémon do 20 more damage. The only bad part about the card is that if the Pokémon it is attached to is knocked out your opponent gets to take two prize cards instead of one. Have three Pokémon that have Expert Belt attached to them knocked out in a battle and your opponent will scoop up all six of their prize cards and win the match.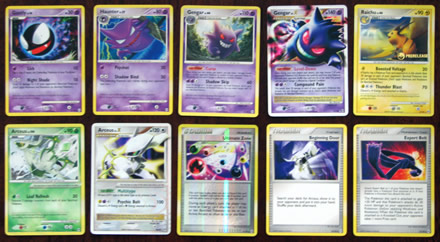 Another card desired by a lot of Pokémon TCG players is the Gengar LV.X card that is selling for around $15 on eBay. The Gengar LV.X card allows you to level up your Gengar and increase his HP to 140. Using Gengar LV.X will also let you to use the "Level-Down" move that makes your opponent remove the LV.X card you choose from one of their Pokémon and shuffle it back into their deck. The other move that Gengar LV.X has is called "Compound Pain" and it allows you to do 30 damage to each of your opponent's Pokémon that already have damage on them. You can use this move along with the Stage 2 Gengar card's "Curse" move that allows you to move one damage counter from one of your opponent's Pokémon to another one of their Pokémon. Doing this will allow you to get damage on every Pokémon they have and to hit each of them with 30 damage as the match moves on.
The new legendary Alpha Pokémon Arceus has added another layer to the Pokémon TCG with this new expansion and I am really happy that my son and I started playing the game. It allows us to do something together each week by going to league and we both like video games and the Pokémon games, so this trading card game fits right in. Plus, this year's Pokémon Trading Card Game League has expanded to also include the Nintendo DS games. Not many people at our league bring their Nintendo DS, but if they did we could get credit for playing matches against them on it also. As you receive credit for playing, win or lose, you earn special promotional cards and we just received the special edition Pokémon Organized Play Nintendo DS skin tonight.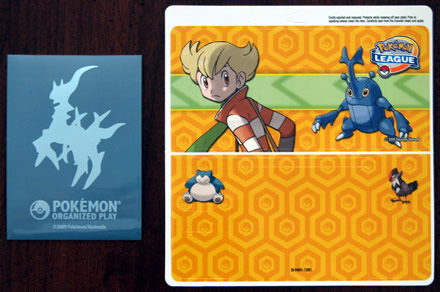 POP Card Sleeve & Pokemon League Nintendo DS Lite Skin
If you like the Pokémon video games for Nintendo DS, GameCube, and Wii, then you should consider playing the Pokémon Trading Card game. The trading card game plays a lot like the Pokémon games on Nintendo DS. You need to apply different strategies based on the type of Pokémon and deck you decide to create. This allows every player to have different cards in their decks and surprise each other with different ways to play the same cards. To get started you need to buy two  Pokémon Trading Card Game Platinum-Arceus theme decks or the 2-Player Trainer Kit. Then you can buy booster packs to expand and change your theme deck to make it even better. Collecting, trading, battling, and building is all part of the fun of the Pokémon TCG and I am happy to be playing the game again.
Leave a Reply
You must be logged in to post a comment.