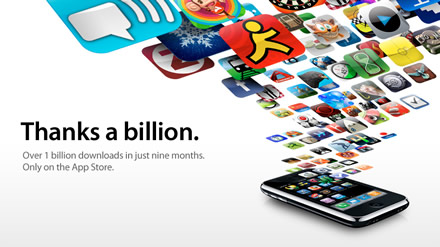 Apple announced today that 1 billion apps have been downloaded from their iPhone and iPod Touch Apps Store.
Below is the list of all-time top downloaded apps and games:
All-Time Top Paid Apps
Crash Bandicoot Nitro Kart
Moto Chaser
Super Monkey Ball
iFart Mobile
Koi Pond
Pocket Guitar
Pocket God
Touchgrind
Enigmo
Flick Fishing
Cro-Mag Rally
iHunt
Bejeweled 2
TETRIS
Ocarina
iShoot
iBeer
Texas Hold'em
Fieldrunners
MONOPOLY Here & Now: The World Edition
All-time Top Free Apps
Facebook
PAC-MAN Lite
Urbanspoon
MySpace Mobile
Google Earth
Backgrounds
Movies
Virtual Zippo Lighter
Pandora Radio
Touch Hockey: FS5
iBowl
The Weather Channel
Tap Tap Revenge
Labyrinth Lite Edition
Lightsaber Unleashed
BubbleWrap
Shazam
Flashlite
Sol Free Solitaire
Remote
* Some applications are not available in all areas.
A few of the regular video games made the list, but their are also a decent amount of new independent games that are on the list that is nice to see.
What iPhone/iPod Touch games have you downloaded and which ones would you recommend?
Leave a Reply
You must be logged in to post a comment.