Players compete to win a chance to play against the Hall of Fame pitcher, win signed Fergie Jenkins Memorabilia, and much more.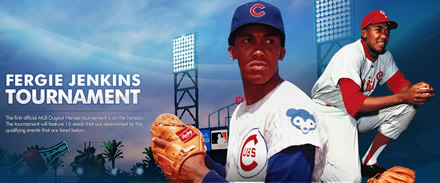 GamesCampus' Online PC baseball game has launched its first Fergie Jenkins Tournament. Pro-ranked players will compete for top honors– including the grand prize which gives first-place winners the chance to play against the real-life Hall of famer, Fergie Jenkins, in the game. Other prizes include signed Fergie Jenkins memorabilia and an all star-star version of Fergie Jenkins on their in-game team roster as well as in-game currency (NUTs) of up to 500,000.
The tournament bracket is comprised of two sections and the seeding for each section is determined based on the qualifying events. The tournament is single elimination with a total initial field of 16 teams. Each round will last two days and games not played in the two day window may result in both teams being eliminated.
People are encouraged to view the tournament games going on right now and watch the showdown with Fergie Jenkins on Saturday, October 3rd!
Prizes
1st : Compete against Fergie Jenkins in a game of MLB Dugout Heroes plus signed Fergie Jenkins Memorabilia, and an all-star version of Fergie Jenkins on the team roster
2nd : 500,000 NUTs
3rd : 300,000 NUTs
4th : 200,000 NUTs
More information and updates on the tournament as it continues can be found at: www.mlbdugoutheroes.com
Leave a Reply
You must be logged in to post a comment.