Standalone Expansion to Real-Time Strategy Franchise Introduces Chaos Space Marines, Delivers an Intense Single Player Campaign and Offers All-New Multiplayer Content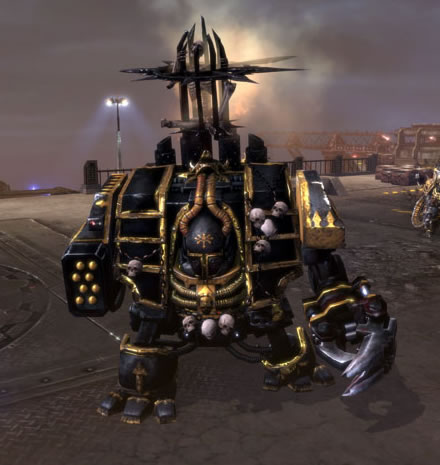 THQ Inc. (NASDAQ: THQI) today announced Warhammer(R) 40,000TM: Dawn of War(R) II - Chaos RisingTM, the next standalone chapter in the critically acclaimed Real-Time Strategy (RTS) series, is scheduled for release on Games For Windows-LIVE in spring 2010. Warhammer 40,000: Dawn of War II - Chaos Rising features a new playable army, the traitorous Chaos Space Marines, and continues the epic journey of the Blood Ravens as they battle this new, more personal enemy. Developed by award-winning internal studio Relic Entertainment, Chaos Rising offers new single-player and co-op campaigns, a level cap increase from 20 to 30, more powerful war-gear and a suite of innovative multiplayer options. The exclusive first look preview of Warhammer 40,000: Dawn of War II - Chaos Rising will be featured in PC Gamer's December issue, available on newsstands by October 12.
"Chaos Rising delivers a tremendous amount of new content, including the powerful Chaos Space Marines, new multiplayer maps and units, a new level cap and a continuation of the Blood Ravens single player campaign," said Kevin Kraff, vice president of global brand management, THQ. "Relic's passion for the Warhammer 40,000 universe and talent in crafting innovative RTS games will ensure Chaos Rising is an engaging experience that will advance the franchise and genre."
"Dawn of War II took intimate brutality to another level and introduced RPG-RTS hybrid gameplay," said Jonathan Dowdeswell, general manager, Relic Entertainment. "The epic struggle between Space Marines and the forces of Chaos lets us take those two game-play elements and create an even more intense experience - this time, the battle is personal."
For more information on Warhammer 40,000: Dawn of War II - Chaos Rising, please visit www.dawnofwar2.com.
Leave a Reply
You must be logged in to post a comment.