Haarlem, The Netherlands – 14 March 2011 – The quest for King Solomon's treasure is about to kick off now that Adam's Venture 2: Solomon's Secret (PC) has reached Gold status today. Videogames publisher Iceberg Interactive and independent development studio Vertigo Games have also revealed the official pack shot for the retail release of the action adventure game.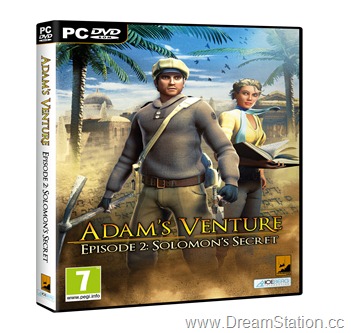 Adam Venture is an action explorer hero; adventurous but using his wits rather than resorting to violence. Brought to life from a third person perspective with the Unreal 3™ engine, adventure gamers are in for a real visual treat in combination with family values storytelling. In this second installment of the episodic series, Adam Venture and his crew end up in 1920's Jerusalem having escaped alive from the Caverns of Eden. In their continuous search for the Lost Garden of Eden, they become entangled in a thickening plot featuring a ruthless dig for the ancient King Solomon's treasure - but is that really all there is to it? What is the real goal of the infamous Clairvaux Corporation?
Adam's Venture 2: Solomon's Secret is scheduled for release on 8 April 2011. Pre-orders are available in the Iceberg Webshop(http://www.iceberg-shop.com/adams-venture-2-solomons-secret.html) with free shipping up until the release.
Leave a Reply
You must be logged in to post a comment.