EA SPORTS On-Demand Team Expands Social Sports Game Portfolio.
REDWOOD CITY, Calif.–(BUSINESS WIRE)–Electronic Arts Inc. (NASDAQ:ERTS) announced today plans for EA SPORTS™ PGA TOUR® Golf Challenge, a new, casual golf game for Facebook that launches in winter 2010. EA SPORTS PGA TOUR Golf Challenge features real-time 3D gameplay** on Facebook and expands on the EA SPORTS™ social game portfolio that also includes FIFA Superstars and Madden NFL Superstars. As with FIFA Superstars and Madden NFL Superstars, both ranked number one in their respective categories on Facebook1, EA SPORTS PGA TOUR Golf Challenge offers a fun and compelling social gameplay experience for a wide-range of sports fans and their friends.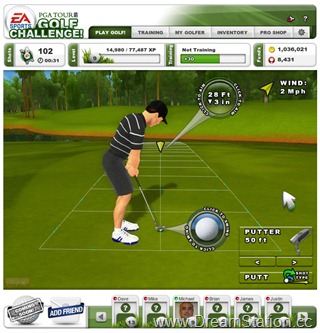 Developed at EA SPORTS Tiburon, EA SPORTS PGA TOUR Golf Challenge allows participants to play rounds of golf to earn experience and level up through their career while also unlocking world famous golf courses. Daily challenges will allow players to compete against their Facebook friends, with weekly champions crowned as players vie for golf supremacy on Facebook. Tailored to a casual gaming audience, the game features accessible, easy to master game play mechanics, including one-click swing, easy aiming with a mouse or keyboard, an assortment of custom clubs, and a variety of shot types. At launch, EA SPORTS PGA TOUR Golf Challenge will offer a series of gameplay modes and additional opportunities to customize and accelerate a player's career that can be purchased via micro-transactions.
"EA SPORTS is pioneering new ways to play games online by creating entertaining experiences that resonate with both casual and hardcore gamers alike," said Andrew Wilson, senior vice president of worldwide development, EA SPORTS. "Our growing portfolio of premium social gaming products, including EA SPORTS PGA TOUR® Golf Challenge, provides unique new opportunities for fans to experience sports games online, while also helping us reach an evolving fan base."
EA SPORTS PGA TOUR® Golf Challenge is the third game developed by a newly formed EA SPORTS On-Demand team, joining the previous releases of Tiger Woods PGA TOUR Online and Madden NFL Superstars. The EA SPORTS On-Demand group includes game developers with experience across multiple EA SPORTS franchises and was formed to accelerate the expansion of the EA SPORTS direct-to-consumer game portfolio.
EA SPORTS has previously introduced two social gaming experiences, FIFA Superstars and Madden NFL Superstars. In recent months, these games have reached a series of achievements, underscoring momentum in the growing category:
FIFA Superstars - Launched just ahead of the 2010 FIFA World Cup™, FIFA Superstars had more than 1.7 million monthly active users within its first three weeks of availability, and now has over 3.7 million monthly users on Facebook, according to AppData2.
Madden NFL Superstars – Released at the beginning of this year's NFL season, the game has more than 2 million monthly users and over 200,000 daily users on Facebook, according to AppData3.
EA SPORTS PGA TOUR Golf Challenge joins the Tiger Woods PGA TOUR franchise to expand the EA SPORTS portfolio of immersive golf experiences that give casual and hardcore gamers the ability to hit the links via an authentic gameplay experience.
* Internet connection and registration required.
** Requires Unity Web Player.
Leave a Reply
You must be logged in to post a comment.