SOFIA, BULGARIA - August 10, 2010 - Masthead Studios, a leading independent developer of MMOs, today released three new screenshots depicting weapons featured in Earthrise, its post-apocalyptic, sci-fi MMORPG releasing in Q4 2010.
In Earthrise, every skill line is directly related to a specific item. In order to employ the abilities specific to the given skill line, the player must equip their character with the needed item – the abilities will then appear directly on the action bar and available for player use.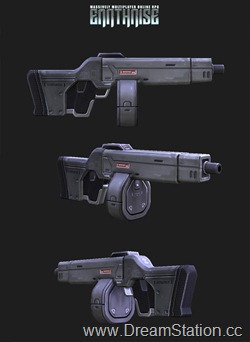 Shotguns are heavy assault weapons, usually outfitted with close-combat attachments. They use conventional flechette canister ammo that can form both solid shots and swarms of razor-sharp flechettes. Shotguns are generally short-ranged weapons with a good rate of fire, packing a hefty punch at both melee and close distance, but the canister ammo lacks long-range momentum and disperses over extensive distances. One word describes the shotgun play-style: brutal. The role of the weapon and its abilities is a melee-ranged hybrid that concentrates on heavy single-target damage and massive crowd-control.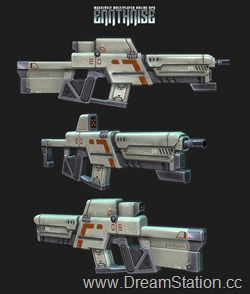 Assault Rifles are a category of weapons that revolves around short, powerful bursts of fire and use of auxiliary grenade launchers. Their nano-filament cartridges provide ammo for both the standard automatic fire and the grenade launcher, but the latter requires a significant amount of energy and is activated only through elevated abilities. Assault Rifles possess both good single-target and excellent area of effect abilities, and skilled players can use them to threaten and dominate large groups of mobile enemies.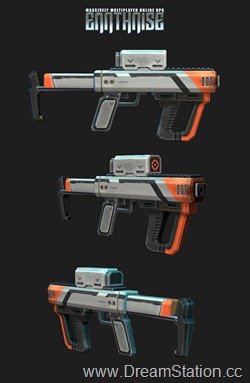 As Earthrise has no heavy snipers, the Precision Rifles fill the gap. They have excellent long-range damage strengths without sacrificing their mobility. Skilled players can use them to incapacitate enemies, and prevent enemy abilities and attacks with well-placed shots that blind sensors and short-circuit energy systems.
Earthrise is a post-apocalyptic, sci-fi MMORPG set in the distant future. Featuring a unique skill-based advancement system and player-driven economy, as well as extensive, meaningful player-vs.-player combat, Earthrise gives players countless options to forge their destiny through its sandbox-style game mechanics. Whether a noble soldier in the raging conflict between the Continoma and the Noir, a criminal hiding from the law, or a world-renowned engineer whose power extends into intricate trade and politics, players' actions will echo throughout the game world. Visit www.play-earthrise.com to learn more.
Leave a Reply
You must be logged in to post a comment.