The Family Friendly Pick Up and Play Football Game Hits Shelves September 29, 2009.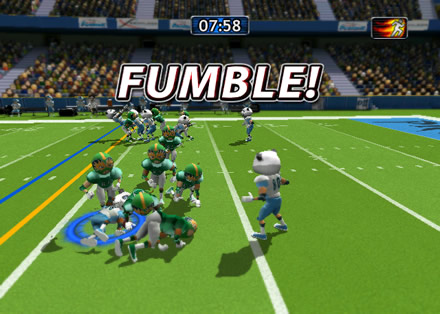 Video game developer and publisher Tecmo® today announced that the WiiTM-exclusive Family Fun FootballTM has gone gold and will be launching in North America on September 29, 2009. Families will enjoy the casual, "pick up and play" gameplay style, simple playbook, and intuitive motion controls that help create the ultimate fun football experience. Addicting mini games, whimsical characters, and mascot modes keep kids and parents alike coming back for more, not to mention the ability to play as your Mii caricature!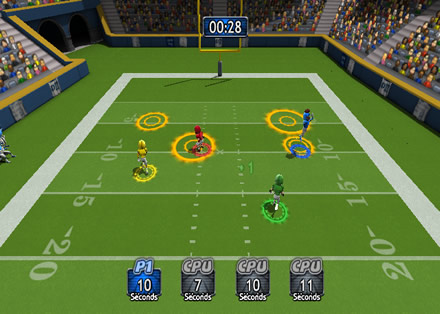 Game Features
Simple playbook: A coaching playbook that makes it easy for everyone to learn and play the game of football!
Power-ups: Earn power-ups during gameplay to enhance certain attributes including speed, strength, passing, and interception for a limited amount of time. Use them wisely to gain momentum in the game!
Quickplay: Jump right into the action! Select two teams and the stadium you want to play in to get started. Up to four players can play for 2-on-2 football fun!
Season: Play through a nine game season, each game against a different opponent. Defeat every team to be the best!
Tournament: Play your way through a double-elimination tournament and be the last team standing to win it all!
Mascot Mode: You can play as your team's mascot, or as one of 10 unlockable mascots in Mascot Mode!
Mii Compatibility: Load in your own Mii and play against your friends' and family's Miis for a more personal experience.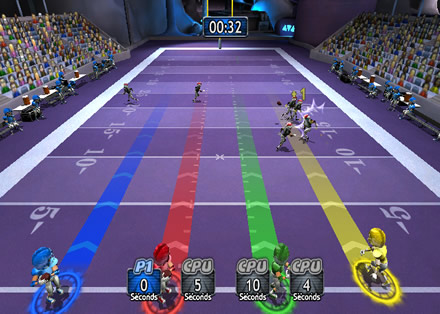 Developed by Seamless Entertainment, the Wii exclusive is scheduled for release on September 29, 2009. Pre-order your copy of FAMILY FUN FOOTBALL today at GameStop (www.gamestop.com)! Family Fun Football is rated "E" by the Entertainment Software Ratings Board (ESRB). The game will carry a suggested retail price of US $29.99. Additional information on the title, including a trailer and downloadable coloring book pages, can be found at www.familyfunfootball.com.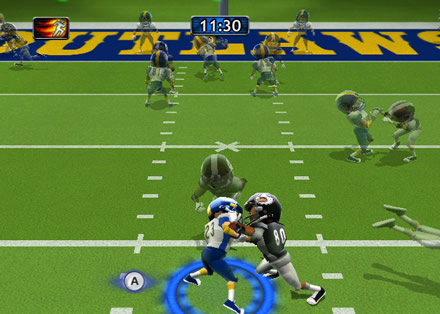 Leave a Reply
You must be logged in to post a comment.