FINAL FANTASY XIV PC Collector's Edition to Offer Early Access to the Realm of Eorzea.
LOS ANGELES (June 30, 2010) - Square Enix, Inc., the publisher of SQUARE ENIX® interactive entertainment products in North America, announced today that the highly anticipated massively multiplayer online game FINAL FANTASY® XIV is set for global release on September 30, 2010 for Windows PC.
In advance of the September 30 release, FINAL FANTASY XIV PC Collector's Edition will offer early access to adventurers eager to embark on this new chapter in the FINAL FANTASY series. In addition, the Beta phase for the Windows PC version will begin in early July 2010.
Standard Edition - $49.99 (Available September 30, 2010) Includes:
Standard Edition preorders will include a reward code to receive an exclusive in-game item, the Garlond Goggles.*
FREE GAMEPLAY - Free gameplay for 30 days.
GAME DISC
GAME MANUAL
Collector's Edition - $74.99 (Available September 22, 2010) Includes:
IN-GAME ITEM - Collector's Edition preorders will include a reward code to receive an exclusive in-game item, the Onion Helm.*
EARLY ACCESS - Play 8 days prior to the release of the Windows PC Standard Edition (timing of access subject to initial server capacity).
BEHIND-THE-SCENES DVD - Get an insider look at the making of FINAL FANTASY XIV, with exclusive video content, interviews and more in this special documentary DVD.
SECURITY TOKEN - A FINAL FANTASY XIV-branded Security Token for use with your regular password.
TRAVEL JOURNAL - Record your travels in this beautifully bound journal filled with pages of never-before-seen concept art.
RIGHT OF PASSAGE - Redeem a voucher to receive your fully-personalized Right of Passage Certificate, each stamped with a unique serial number.
AMANO COVER - Special PC Collector's Edition illustration by renowned artist Yoshitaka Amano.
FREE GAMEPLAY - Free gameplay for 30 days.
GAME DISC
GAME MANUAL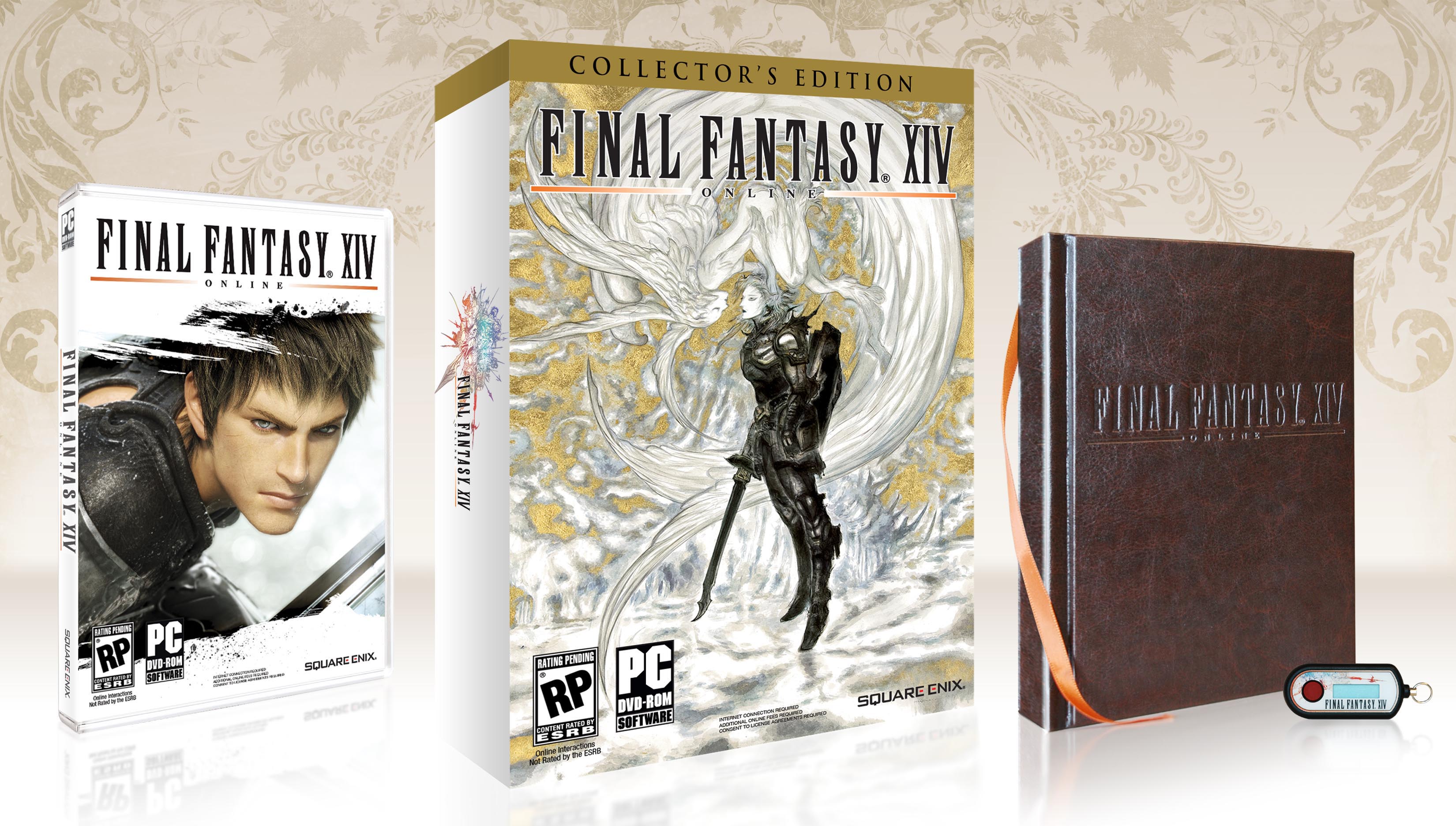 Official Site
http://www.finalfantasyxiv.com/
* FINAL FANTASY XIV PC Collector's Edition pre-orders will include the Onion Helm, an exclusive in-game item which accelerates character recovery after falling in battle. FINAL FANTASY XIV Windows PC Standard Edition pre-orders will include a pair of Garlond Goggles, an exclusive in-game item which increases the speed of skill progression.
"This September, players around the world will join together to explore the fascinating and exciting realm of Eorzea," said Hiromichi Tanaka, Executive Producer of FINAL FANTASY XIV. "We're presenting players with a new style of online gameplay that we know will please avid fans of online games, while welcoming more casual gamers with a variety of gameplay and story-driven content."
For additional information, visit http://www.finalfantasyxiv.com.
FINAL FANTASY XIV will become available for preorder at certain retailers from today.
Those who have registered their PlayStation® 3 computer entertainment system version FINAL FANTASY XIII Campaign Codes can now choose to apply this code to the Windows PC version of FINAL FANTASY XIV. These players will also receive a pair of Asuran Armguards, an exclusive in-game item which enhances the effectiveness of their characters' equipped arm or tool.
The Windows PC Standard Edition will have an SRP of $49.99. The PC Collector's Edition will have an SRP of $74.99. The FINAL FANTASY XIV PlayStation 3 system version will be available early March 2011, with pricing to be announced at a later time.
Access to Eorzea is subject to certain license agreements and, after the 30-day free gameplay period, recurring subscription fees. All new game packages come with a period of free gameplay, one playable character and one non-playable retainer character (a non-playable character that provides free item storage and in-game merchant services). After the free gameplay period, the regular 30-day subscription fee will be $12.99. Each additional playable character will be $3.00 per period, with a maximum of 8 playable characters per account. Each additional retainer will cost $1.00 per period.
Story
In the past, the city-states battled tirelessly, vying for domination and hegemony. Death-mongering beast tribes pillaged the land unchecked, leaving only destruction in their wake. Unseen enemies lurked beyond the borders, striking at the slightest provocation or show of weakness. The history of Eorzea is a tapestry woven of war and strife, stained with the blood of those gone before, and the tears and ash of fallen endeavor.
And yet the love the gods bear this unforgiving land endures, now as always. What is the allure of this seemingly forsaken place? With what hope and to what end do would-be inhabitants journey here to live out their days?
The answer lies with that which gives form to Hydaelyn and all myriad creation in it - crystals. The cornerstone of all things, it is these crystallized manifestations of the aether that beckon the people to come, risking all in the undertaking.
And so it is that adventures too have harkened the call - to bear witness to the epic set to unfold in this land. This Eorzea.
Features
Conceived and produced by notable FINAL FANTASY developers - Produced by Hiromichi Tanaka (FINAL FANTASY I, II, III, XI) and directed by Nobuaki Komoto (FINAL FANTASY IX, XI), with art direction by Akihiko Yoshida (Vagrant Story®, FINAL FANTASY XII) and musical score by Nobuo Uematsu (FINAL FANTASY series).
In-depth character creation - Choose a race and clan before going on to customize your avatar's face, hairstyle, skin color and more, with subtle adjustments allowing for limitless possibilities.
The Armoury System - With defining emphasis on the game's weapons and tools, the Armoury System is a unique class system that influences both character development and an individual's style of play. With it, players have the flexibility and freedom to fight, craft and gather whenever and however they so choose. Simply equipping an item will automatically cause the character to take on the class associated with it.
Aetheryte transportation - Traverse the realm of Eorzea instantly using this seemingly supernatural teleportation system.
Solo or party play - Adventure alone or in the company of others as you undertake quests and engage in battles on your travels through Eorzea.
Windows PC Version Beta Test Phase to Begin Early July
The next beta test phase is schedule to begin in early July. For more details on how to participate in the beta test, visit http://entry.ffxiv.com/na.
The required specifications for the Windows PC Beta Test are now available.
The requirements below may change at the time of retail launch. Please visit the official site periodically for the latest information.
Operating System
Windows XP SP3 **
Windows Vista 32bit / 64bit SP2 ***
Windows 7 32bit / 64bit ***
CPU
Intel® CoreTM 2 Duo (2.0GHz)
AMD AthlonTM X2 (2.0GHz)
Memory
Windows XP: 1.5GB or higher
Windows Vista / Windows® 7: 2GB or higher
HDD/SSD Space
Download: Space on the hard drive where My Documents is located should be 6GB or more ****
Graphics Card
NVIDIA® GeForce® 9600 series or higher with VRAM 512MB or more
ATI RadeonTM HD 2900 series or higher with VRAM 512MB or more
Sound Card
DirectSound® compatible sound card (DirectX® 9.0c or higher)
Internet Connections
Broadband Internet connection or higher
Resolution
1280 x 720 or higher; 32bit or higher
DirectX®
Others
Mouse, Keyboard, Gamepad *****
** If using Windows XP, the executable files, installation and version updates should be set to Administrator settings.
*** 64bit OS will run in WOW64 (Windows on Windows 64) mode.
**** The file system in the drive containing the My Documents folder will need to be set to NTFS formatting.
***** A gamepad is not required.
Leave a Reply
You must be logged in to post a comment.