Toys R Us will be allowing you to download Darkrai, a legendary Pokemon, into your Pokemon Diamond or Pokemon Pearl games this weekend, May 31st - June 1st, via their in-store Nintendo DS Download Station. You will need to bring your game and Nintendo DS to the store to download Darkrai and you will also need to have played the game far enough to get the Pokedex and have no more than two Wonder Cards. Each Pokemon Diamon and Pearl game card can only store one Darkrai on it.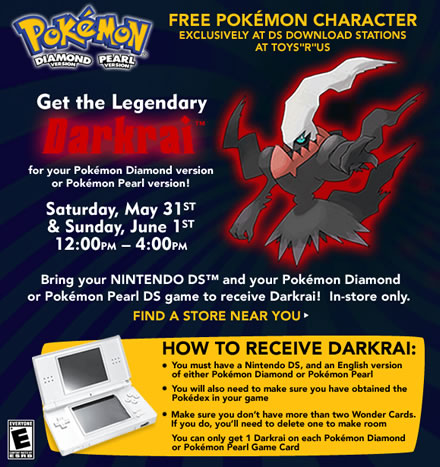 For more details on how to get a free Darkrai for your Pokemon Diamond or Pokemon Pearl game visit ToyRUs.com.
Leave a Reply
You must be logged in to post a comment.