Love you some Gears of War? Can't get enough? Looking for a new multimedia player to hold all of your music, video, picture, etc? Well, then you're in luck because Microsoft now has the perfect thing for you or for the person you love…the Limited Edition Gears of War 2 Zune!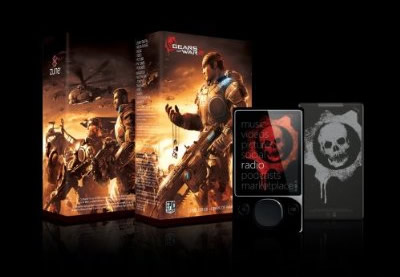 The new Zune Gears of War® 2 Special Edition has been emblazoned with the Crimson Omen etched on the back of this major player. Its massive 120GB capacity comes loaded with a special Gears of War 2 media collection - a huge assortment of production artwork and photos,the original game soundtrack, behind-the-scenes videos, game trailers, concept art galleries and more. Plus all the innovative features in Zune - like Buy from FM, Wireless Sync and Wi-Fi hotspot access to Zune Marketplace.
Box Content
Zune Gears of War® 2 Special Edition Player
Headphones
Zune Sync Cable
Three pairs of foam earpiece covers
Preloaded Content
Listen to the full soundtrack of the original Gears of War® game - including 28 tracks from the game that started this epic saga.
9 Gears of War® videos, including gameplay, trailers, and behind-the-scenes moments with Epic Games.
244 different images, including game concept art, team photos,and custom Zune backgrounds.
Get it from your favorite retailer or order the Gears of War 2 Special Edition Zune 120GB at Amazon.com now and get a bonus set of Skull Candy headphones for free.
Comments [2]
Leave a Reply
You must be logged in to post a comment.