Interactive, Customized Case Ships at Game Launch in September Chance to win a life-size 'Gears of War' COG armor suit.
Duluth, MN, June 29, 2011 — Partnering with Epic Games, one of the premier video game developers in the world, Calibur11 today announced an exclusive Gears of War 3 Vault. Available in September when the widely acclaimed game ships, the Gears of War 3 Vault is a high-end, interactive case for the Xbox 360 Slim that features a high-definition "Bleed-Out" finish, controller cradle and an LED Crimson Omen that glows red every time a player is downed by an opponent.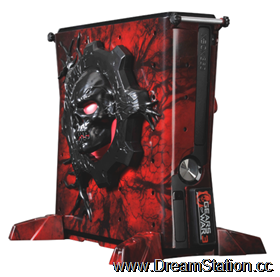 To celebrate the launch of the Gears of War 3 Vault, inside each box is a chance to win an authentic, life-size "Gears of War" COG armor suit replica bearing the Calibur11 logo.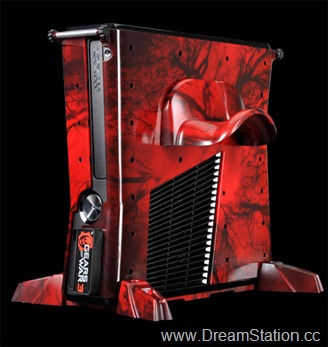 "We are huge fans of the 'Gears of War' franchise and really wanted to raise the bar with our exclusive Gears Of War 3 Vault," said Coy Christmas, CEO of Calibur11. "We believe we have succeeded in doing so with the addition of the different color modes and the Infected Omen which reacts every time you get downed or are revived in the game."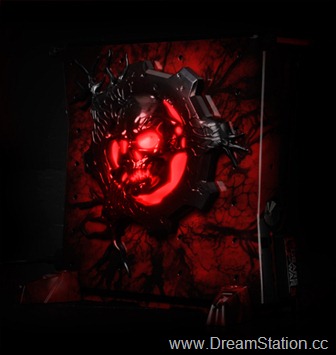 Epic Games Vice President Jay Wilbur added, "The quality of the Gears of War 3 Vault is phenomenal, and Calibur11 has done a great job of capturing the spirit of the franchise and enhancing the overall experience.."
"Gears of War 3" is the spectacular conclusion to one of the most memorable and celebrated sagas in video games. Developed by Epic Games exclusively for Xbox 360, "Gears of War 3" plunges players into a harrowing tale of hope, survival and brotherhood.
In the game, players fight on as Marcus Fenix, the grizzled war hero and leader of Delta Squad. 18 months after the fall of the last human city in "Gears of War 2," the war against the Locust rages on, but a new enemy has emerged. Deep beneath the surface, a fearsome new threat, the Lambent, is infecting the planet from within. With survivors scattered and civilization in ruins, time is running out for Marcus and his comrades as they take up their Lancers to make one last push that will ultimately decide the fate of humanity.
The "Gears of War" series is one of the most popular franchises in Xbox history, having sold more than 13 million games worldwide, and spawning New York Times best-selling novels, an upcoming film and more.
Calibur11's Gears of War 3 Vault for Xbox 360 Slim will be available at all Best Buy store locations, as well as all major online retailers, in September for a suggested retail price of $89.99. Customized nameplates will carry a suggested retail price of $17.99. More information can be found online at http://www.calibur11.com.
Comments [1]
Leave a Reply
You must be logged in to post a comment.