RENNES, France - October 3, 2012 - Thrustmaster, a world leader in interactive entertainment hardware and accessories, is pleased to introduce its latest exclusive controller under its official Ferrari license, the GPX LightBack Ferrari F1 Edition. Designed to offer extreme precision, with built-in Light Feedback, speed gauges and Vibration Feedback, this new release also features an official license for Xbox 360, and is honed to take the pole position in every race.
An unrivalled, truly innovative design:
The GPX LightBack Ferrari F1 Edition does not go unnoticed. Boasting a new design and looks inspired by the Musetto (i.e. the nose) of the Ferrari F1, it also proudly bears the signature of Scuderia Ferrari driver and Formula 1 World Champion, Fernando Alonso.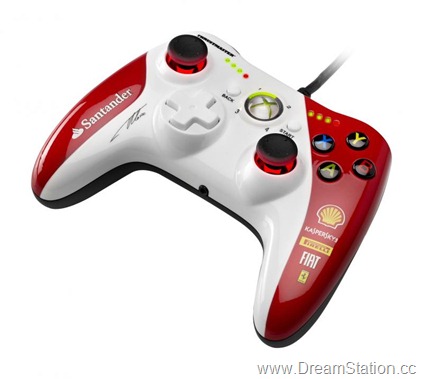 The GPX LightBack Ferrari F1 Edition's unrivalled looks become even more remarkable during gameplay, thanks to 2 exclusive features: Light Feedback and speed gauges. Light Feedback enhances the gamepad's ministicks with interactive backlighting, which illuminates with in-game events. The 2 speed gauges feature 8 built-in LEDs offering improved visibility and control over acceleration and braking. The Light Feedback and speed gauges can easily be enabled or disabled by way of 2 ON/OFF switches. These specific features allow players to visualize the game's essential parameters, such as engine speed and braking power, during races and improve their performance using precise indicators.
The GPX LightBack Ferrari F1 Edition also packs a punch under the hood, with a Vibration Feedback feature controlled by 2 high-frequency vibration motors built into the device's grips. These allow Xbox 360® owners, current users of Windows® 7 and Vista, and future users of Windows® 8 to truly feel the power of their cars' engines.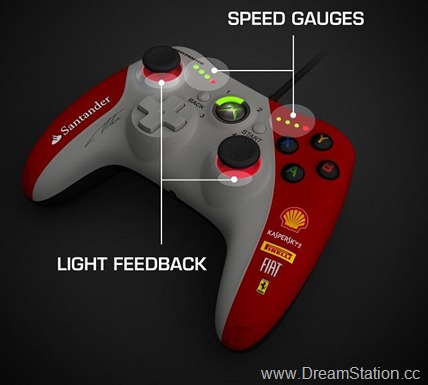 Optimized precision for ultimate performance:
In addition to the high-performance features described above, the GPX LightBack Ferrari F1 Edition offers unrivalled gaming precision. This is mainly due to its ministicks, which provide optimized precision, twice as much in fact, as any other currently available controller thanks to new firmware. These 2 ministicks also feature textured non-slip rubber cladding, ensuring optimal handling and comfort.
The 2 progressive triggers, which are long and curved, are designed to offer optimized ergonomics, allowing for enhanced adjustment and control of the actions applied. The cross-shaped D-pad is also designed to provide improved precision in all 8 directions. The controller's equipment is rounded off by an Xbox Guide/Windows Live button featuring 4 LEDs, along with a built-in headset connector.
The GPX LightBack Ferrari F1 Edition will be available in October, at a suggested retail price of $49.99 For more information on this product, or any other made by Thrustmaster, please see our website at www.thrustmaster.com.
Leave a Reply
You must be logged in to post a comment.