Santa Ana, Calif. (February 28, 2012) – NIS America is excited to announce that Hyperdimension Neptunia mk2 for the PlayStation 3 Computer Entertainment System ships to retailers nationwide today, February 28th. Hyperdimension Neptunia mk2 is the sequel to the popular RPG Hyperdimension Neptunia, in which you control personifications (humanoids) of videogame consoles whose objective is to protect the world of Gamindustri. In Hyperdimension Neptunia mk2, the four heroines are the younger sisters of the CPUs (Console Patron Units) from Hyperdimension Neptunia. Once again, fans can indulge in the mysteries and adventures found within Gamindustri!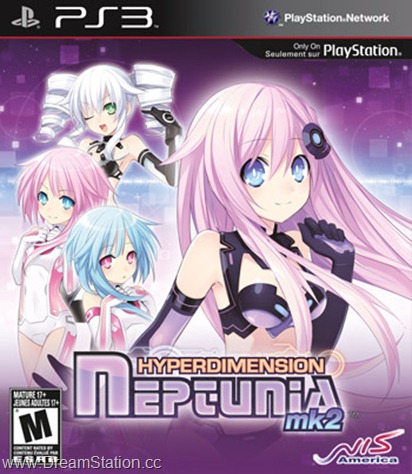 About Hyperdimension Neptunia mk2
Return once more to the world of Gamindustri, where the Criminal of the Free World, Arfoire, has defeated the four CPUs of Gamindustri. It is now up to their younger sisters to free them from captivity.
Nepgear, the CPU Candidate of Planeptune and younger sister to Neptune, sets out on her quest with IF and Compa to regain Gamindustri's prosperity, stop the syndicate of evil that Arfoire created, and set her sister free! During her travels across the world, Nepgear will encounter friends new and old, meet the other CPU Candidates, and take care of any monsters that stand in her way in this classic JRPG tale of good versus evil!
Features
• An all-new free-roam battle system offers more strategic combat.
• A streamlined combo system allows for faster combat flow.
• New item synthesis system lets you craft items and weapons.
• Fight in the Coliseum to test your might and face powerful opponents.
For more information and the first trailer, please visit NISAmerica.com/games/neptunia2
Leave a Reply
You must be logged in to post a comment.