Limited-Edition Winter Wonderland Zone and Racetrack Available November 30.
November 23, 2010 LEGO® Universe fans, grab your rockets and prepare for blast off - a cool new content zone, Frostburgh is coming to the MMOG next week! Beginning Tuesday, November 30, players can explore a limited-edition wintery world, available only for the holidays. A mighty space blizzard is brewing, so expect plenty of snow and seasonal LEGO fun, with a whole new zone, new racetrack theme and icy cool collectibles on the Frostburgh comet in LEGO Universe.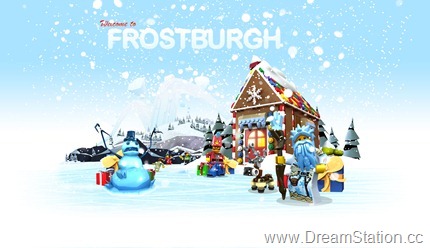 Within the winter wonderland zone, players can complete new missions every day to celebrate thirty days of Frostivus holiday spirit. Frostburgh only approaches the LEGO Universe Nimbus System once a year, so enjoy all the Frostivus-themed Minifigure fun while it lasts. Players can collect candy canes, start snowball fights, build gingerbread homes, open presents, earn winter rewards, tame new Reindeer pets, and meet new NPC friends like Sneezy Icewhisker, Sugarplum Fritz, Peppermint Lane and Hansel Tinseland.
The LEGO Universe weather center is also predicting a furious space blizzard to blast the Vertigo Loop Racetrack next week. Nimbus Station is assembling new racing missions, achievements and unlockable Frostburgh race cars in preparation for the seasonal snow storm. Players are asked to use creativity in the event of icy conditions or evil snowmen on the racetrack.
If you haven't yet picked up a copy, there's still time to get in the game before Frostivus begins! Put LEGO Universe on your list - for yourself and the kids - this gift-buying weekend, and get your Minifigure in gear before the space blizzard comes to town next week.
Leave a Reply
You must be logged in to post a comment.