Nintendo revealed more details today for the upcoming Mario Tennis Open, which launches for the portable Nintendo 3DS system on May 20.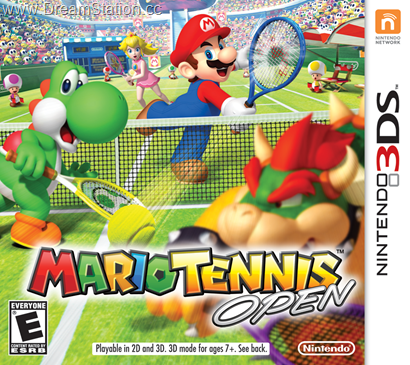 The Special Games mode in Mario Tennis Open lets players hone their tennis skills while enjoying tennis games with a Mario twist. Players can check out games such as Super Mario Tennis, which puts a classic Super Mario Bros. twist on tennis drilling. As they play through familiar game levels, they can use their tennis swing to stomp Goombas and Koopas along the way.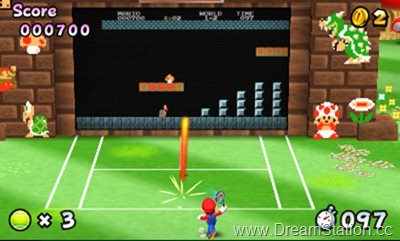 People can play as their favorite characters from the Mushroom Kingdom or even compete as their Mii characters. They can also customize their Mii characters with Mushroom Kingdom-themed tennis gear, which not only enhances players' appearances but also can boost their stats. The wide selection of available gear includes Bowser's favorite racket, a Bullet Bill outfit and Peach's tennis shoes.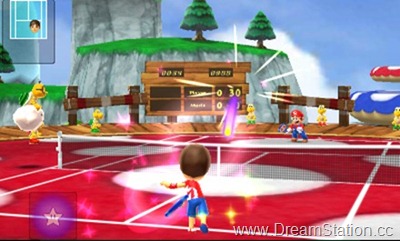 In addition to a singles tennis match mode, another mode in the game lets up to four players compete online in multiplayer doubles matches. Players can also compete online for leaderboard standings in Open Match.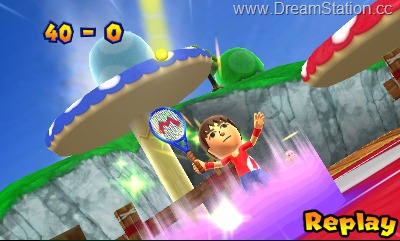 When playing with other Nintendo 3DS owners in the same room* or against distant competitors using a wireless broadband Internet connection, players can cooperate to take on a common opponent or stay competitive and try to claim the glory for themselves. Players can opt to use intuitive touch-screen controls or increase their strategic options with traditional button controls. They can also switch seamlessly to the Nintendo 3DS system's built-in motion controls.
FEATURES:
As many as four players can connect online with their friends for singles or doubles matches. Additionally, Open Match mode can automatically pair players of comparable skill levels. Nintendo 3DS owners who are near each other can also face off via a local wireless connection, even if only one player has a Mario Tennis Open game card.
In single-player tournament mode, players compete against fan-favorite Mushroom Kingdom characters in a classic single-elimination tournament. Players who want to quickly jump into the action can choose the customizable Exhibition mode, allowing them to adjust the skill level of their computer-controlled opponent, select a court and choose the number of sets to be played.
In Mario Tennis Open, strategy is key as players execute lobs and drop shots or unleash powerful topspin to outlast their opponents in intense rallies. When Chance Areas appear on the court during a match, players can run to them to execute a supercharged Chance Shot. Intuitive touch-screen controls allow players to easily and skillfully perform different swings. Players can also choose to use the motion controls of the Nintendo 3DS system to precisely shoot to the left or the right in order to ace their opponents.
Using the Nintendo 3DS system's StreetPass feature, Mario Tennis Open players can exchange and show off their customized Mii characters and incorporate them into minigame challenges or competitive singles matches. They can also exchange win-loss records, spread the news about their current winning streak and view online leader boards of their registered Friends.
For more information about Mario Tennis Open, visit http://mariotennisopen.nintendo.com.
Leave a Reply
You must be logged in to post a comment.