More Than 20 Marvel Super Heroes and Super Villains To Be Featured in THQ's Upcoming Adventure-Brawler Game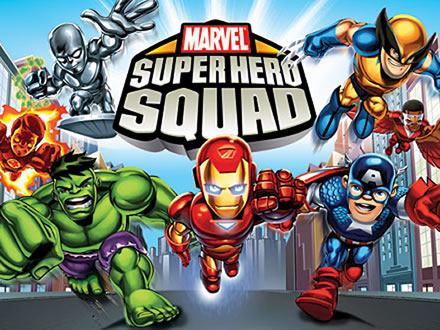 THQ Inc. today announced that the full list of characters from its soon-to-be-released Marvel Super Hero Squad video game has been revealed exclusively on Marvel.com. The roster includes such notable Super Heroes as Wolverine, Spiderman, Captain America and Thor, among other recognizable characters from Marvel Comics. The Marvel Super Hero Squad video game is based on the Marvel Super Hero Squad Show, which premiered on Cartoon Network Saturday, September 19.
Marvel Super Hero Squad will mark the first title in THQ's licensing agreement with Marvel Entertainment, Inc., and is currently being developed by Blue Tongue for WiiTM home video game system, Nintendo DSI, PlayStation®2 computer entertainment system and PSP® (PlayStation®Portable) system. The game is scheduled to be available on October 20, 2009.
About The Marvel Super Hero Squad Video Game
Set in the ever popular Marvel Universe, the Super Hero Squad is on a dire mission against Dr. Doom's Lethal Legion of villains to recover the hidden Infinity Fractals; fragments of the all-powerful Infinity Sword. Each Infinity Fractal holds incredible power and can have significant effects on its possessor, giving each character special abilities that could alter the game's rules and playing field. With more than 20 Marvel characters to mix and match, players can choose to take on the role of their favorite Super Heroes and Super Villains. Using character-specific super powers and customized combo attacks, players will blast, punch, and bash in fast-moving combat with their nemesis. Players can either jump into a battle arena against up to three opponents in Battle Mode, or choose to relive six campaigns as depicted from the animated series in Adventure Mode. Marvel Super Hero Squad is an immersive, single and multiplayer game filled with dramatic, interactive environments where players are given extraordinary powers to fight for good or evil, depending on which Super Hero Squad character they chose to play as.
To view the complete list of Marvel Super Hero Squad characters, please visit www.marvel.com. For more information on the Marvel Super Hero Squad video game, please visit http://superherosquad.marvel.com/videogames/.
Leave a Reply
You must be logged in to post a comment.