Destination PlayStation, a meeting between Sony, retailers and third party teams has revealed three rather significant releases if you're a Sony fan. According to the official PlayStation Blog, you can expect to see a Metal Gear Solid PlayStation 3 Bundle sometime in the second quarter of 2008 (contrary to what other websites may be announcing, we at DreamStation.cc have contacted a Konami representative who has stated that there is no official release date as of this writing), which will include the 80GB version of the PlayStation 3, a copy of Metal Gear Solid 4: Guns of the Patriot, and the DUALSHOCK 3 controller for a retail price of $499.99.
The God of War PSP Entertainment pack will feature a "Deep Red" version of the PlayStation Portable Slim with a picture of Kratos silkscreened on the back, a copy of God of War: Chains of Olympus, Superbad on UMD, and a voucher to download Syphon Filter: Combat Ops from the PlayStation Store free of charge. The God of War PSP Entertainment pack will retail for $199.99.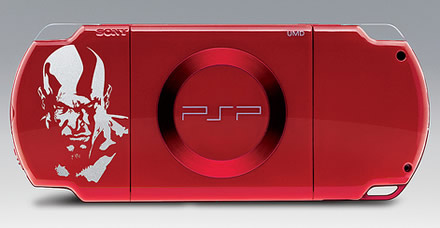 Finally, the DUALSHOCK 3 will be released in April of 2008 and will retail for $54.99. The DUALSHOCK 3 features SIXAXIS technology in addition to the rumble feature which made the DUALSHOCK 2 such a beloved controller.
Thanks to Flea43 for the tip.
Comments [1]
Leave a Reply
You must be logged in to post a comment.