Late last night the Next Generation Portable (codename) was unveiled at PlayStation Meeting 2011. We promised you all the details as soon as we got them, in our late night posting and now we're delivering. Here's what we know about the NGP, (as currently reported by the PlayStation Blog) as it's being called right now. The NGP will feature:
Multi-touch 5-inch organic light emitting display (OLED) as the front display
Multi-touch pad on the rear of the device
Dual analog sticks
Two cameras (front and rear)
Software titles on small, dedicated flash memory-based cards
Three motion sensors, gyroscope, accelerometer and electronic compass
Wi-Fi and 3G network connectivity
PlayStation Network access, including ""LiveArea™", "Near" and "Activity" log features Trophy Support
NGP will be able to play PSP titles, minis, PS one classics, video and comics from the PlayStation Store.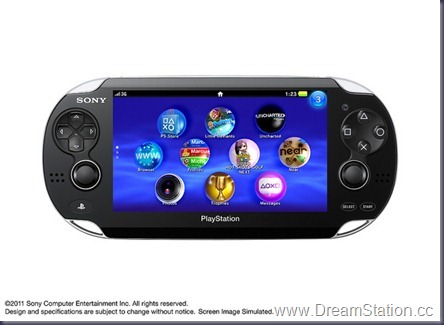 Now some hardware specs:
CPU
ARM® Cortex™-A9 core (4 core)

GPU
SGX543MP4+

External Dimensions
Approx. 182.0 x 18.6 x 83.5mm (width x height x depth) (tentative, excludes largest projection)

Screen
(Touch screen)
5 inches (16:9), 960 x 544, Approx. 16 million colors, OLED
Multi touch screen (capacitive type)

Rear touch pad
Multi touch pad (capacitive type)

Cameras
Front camera, Rear camera

Sound
Built-in stereo speakers
Built-in microphone

Sensors
Six-axis motion sensing system (three-axis gyroscope, three-axis accelerometer), Three-axis electronic compass

Location
Built-in GPS
Wi-Fi location service support

Keys / Switches
PS button
Power button
Directional buttons (Up/Down/Right/Left)
Action buttons (Triangle, Circle, Cross, Square)
Shoulder buttons (Right/Left)
Right stick, Left stick
START button, SELECT button
Volume buttons (+/-)

Wireless communications
Mobile network connectivity (3G)
IEEE 802.11b/g/n (n = 1×1) (Wi-Fi) (Infrastructure mode/Ad-hoc mode)
Bluetooth® 2.1+EDR (A2DP/AVRCP/HSP)
And what's a brand new system if it doesn't have killer games?
Software Franchises shown or talked about at PlayStation Meeting 2011 (titles are not final)

Killzone
Uncharted
WipEout
LittleBigPlanet
Call of Duty
Resistance
Little Deviants
Hot Shots Golf
Reality Fighters
Gravity Daze
Smart As
Broken
Hustle Kings
Are you not entertained? No price, release date, or final specs or design for that matter have been given, but we'll have them as soon as they're available.
Comments [2]
Leave a Reply
You must be logged in to post a comment.