Ultra-Cool Pokémon In All-New Card Designs Revealed in HeartGold & SoulSilver.
Pokémon are the heart and soul of any great Pokémon Trainer, and now is your chance to catch some of the greatest Pokémon of all time with the all-new Pokémon Trading Card Game (TCG): HeartGold & SoulSilver! New kinds of cards will change the way you play-like Pokémon Prime and the astonishing Pokémon legends Ho-Oh and Lugia-plus you'll find lots of Trainer cards that will accelerate your game and select Energy cards with a brand-new look. The HeartGold & SoulSilver expansion will get you started on your journey to greatness!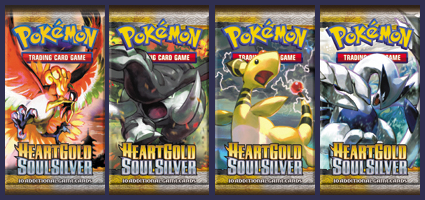 With more than 120 cards, the brand-new Pokémon TCG: HeartGold & SoulSilver expansion will arrive in stores nationwide on February 10, 2010.
Features of the new Pokémon TCG:HeartGold & SoulSilver expansion:
All-new card designs that give the set a unique look
Introducing 2 dual-card Pokémon LEGENDS (Ho-Oh and Lugia)
Discover 6 amazing Pokémon Prime (Ampharos, Blissey, Donphan, Feraligatr, Meganium, and Typhlosion)
MSRP for Theme Decks: $11.99 / MSRP for Booster Packs: $3.79For more information visit Pokemon.com.
Leave a Reply
You must be logged in to post a comment.