I purchased an Apple iPhone after the price drop and wanted to have a cool wallpaper on it from one of my favorite PlayStation 3 games, Ratchet and Clank Future: Tools of Destruction, so I made the following wallpapers from the poster image on the Ratchet and Clank Future website. I have been using them for a little while and figured I would pass them on to anyone else who would like to use them.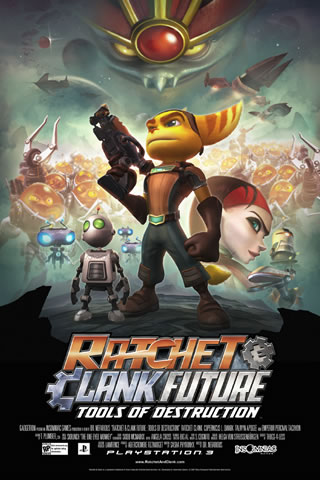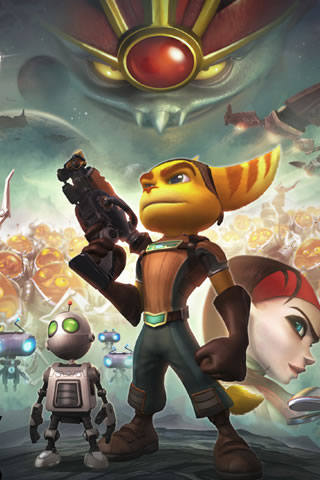 To use these on your iPhone you will need to do the following:
Right-click on on the images above and choose "Save Image As…" in Firefox or "Save Picture As…" in Internet Explorer.
After you choose that you will need to save the pictures to your hard drive in a location where you will be able to find them.
Next, you will need to plug your iPhone into your computer and go into iTunes where you will need to go to the "Photos" tab under your iPhone device to setup the syncing.
Once on the "Photos" tab you will need to pick how you want to sync photos between your Mac/PC and iPhone. Make sure that the folder you saved the above images in is part of the sync options.
Now, sync your iPhone with your Mac/PC.
After you sync your iPhone with your Mac/PC and move the wallpaper images over to it you will need to do the following to set your iPhone wallpaper:
Go under the "Photos" section on your iPhone and then find the wallpaper you would like to use.
Once viewing the wallpaper, tap the small square icon with an arrow in it in the bottom left corner of the screen.
Then tap "Use As Wallpaper".
Move the picture around and zoom in or out if you like and then tap the "Set Wallpaper" button.
Once you have done the above you should have a new wallpaper on your iPhone to enjoy.
Leave a Reply
You must be logged in to post a comment.