MTV Games and Harmonix Reveal More International Songs and Artists for Rock Band™3 at Gamescom 2010 Soundtrack To Feature Musicians from Around the Globe, Including Rammstein, Bob Marley, HIM, INXS, Tokio Hotel and More! Cologne, Germany – Aug. 17, 2010 - Using the international stage of Gamescom 2010, MTV Games, a part of Viacom's MTV Networks (NYSE: VIA, VIA.B), Harmonix Music Systems Inc., and distribution partner Electronic Arts Inc. (NASDAQ: ERTS) today confirmed a standout selection of international acts to be featured on the 83 song on-disc soundtrack for the highly anticipated Rock Band™3 music video game, including INXS, Bob Marley, Slipknot, Rammstein, Tokio Hotel, HIM, Poni Hoax and more. Rock Band 3 will be released Oct. 29 in Europe for the Xbox 360® video game and entertainment system from Microsoft (MSRP €59.99/£49.99), PlayStation®3 computer entertainment system (MSRP €59.99/£49.99), Nintendo Wii™ (MSRP €49.99/£39.99) and Nintendo DS™ (MSRP €29.99/£24.99).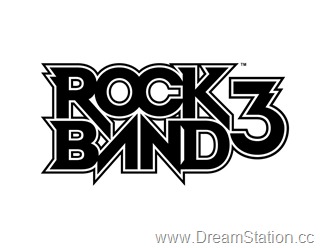 "We believe music transcends boundaries, and intend to prove it with a committed effort to release more music from around the world on the Rock Band platform," said Paul DeGooyer, senior vice president of music and electronic games for MTV Games. "Fans will have access to our incredible line-up of music via simultaneous global releases, and we think everyone will find each song tremendously fun to play, no matter what language they speak."
MTV Games and Harmonix invite Gamescom 2010 attendees to get some hands-on time with Rock Band 3, located at the Electronic Arts (EA) show floor area located in Hall 6.1.
Rock Band 3 on-disc tracks announced today are listed below:
Bob Marley & The Wailers, "Get Up, Stand Up" (Jamaica)
INXS, "Need You Tonight" (Australia)
Poni Hoax, "Antibodies" (France)
Rammstein, "Du Hast" in German (Germany)
Roxette, "The Look" (Sweden)
Tokio Hotel, "Humanoid" (Germany)
HIM, "Killing Loneliness" (Finland)
Maná, "Oye Mi Amor" in Spanish (Mexico)
Slipknot, "Before I Forget" (United States)
War, "Low Rider" (United States)
As previously announced, the Rock Band 3 on-disc setlist also includes international acts such as Phoenix (France), Ida Maria (Norway), Juanes (Colombia), Metric (Canada) and The Vines (Australia).
With more than 30 awards and nominations following its impressive E3 2010 debut, including multiple Best Music and Best Casual/Social Game accolades, Rock Band 3 will feature an incredible 83-song setlist and access to far more music than any other music game, as well as innovative new game play modes and instruments. In addition to guitar, bass, drums and solo vocals, Rock Band 3 adds three-part vocal harmonies and introduces a keyboard peripheral to the band.
Rock Band 3's deep Career Mode takes the band on a journey to gain new levels of status while the environment around them changes from streets and subways to tour stops and venues. And for those just looking for fun, Rock Band 3 has a streamlined experience, with easy drop-in and drop-out, easier no-fail accessibility and an all-new Party Shuffle. Up to seven players can rock together for the ultimate social gaming experience.
The Rock Band platform stands next to none in music content, with more than 1,500 songs already available from more than 400 artists, including Jimi Hendrix, The Who, AC/DC and Green Day, who are exclusive to Rock Band. With more choices for fans than any other music-based videogame, Rock Band is, without question, the industry leader in providing the best selection of interactive musical content, songs and artists. Rock Band pioneered offering content in a variety of ways, through on-disc game play, game export, downloadable content and the Rock Band Network. The Rock Band platform allows fans to interact with their favorite music in a unique and hands-on way, as well as giving artists the ability to reach fans through a whole new channel.
Rock Band 3 will be compatible with all Rock Band™ and The Beatles™: Rock Band™ peripherals, as well as most Guitar Hero® and other authorized third-party music video game peripherals and microphones. Mad Catz is the official peripheral manufacturer and distributor for Rock Band 3 game controllers. Rock Band Pro Guitar is compatible with the Rock Band 3 Fender™ Mustang™ PRO-Guitar™ Controller and the Rock Band 3 Squier® by Fender Stratocaster® Guitar Controller.
For Rock Band 3 art and video assets, please visit http://www.rockband.com/press.
Follow Rock Band on Twitter and Facebook.
Comments [1]
Leave a Reply
You must be logged in to post a comment.