Standalone Disc Begins Melting Faces Today and Features All-New Rock Band Tracks from Blue Oyster Cult, Motörhead, Rage Against the Machine and More.
Harmonix, the leading developer of music-based games, and MTV Games, a part of Viacom's MTV Networks, (NYSE: VIA, VIA.B), along with distribution partner Electronic Arts Inc. (NASDAQ: ERTS), today announced that Rock Band® Metal Track PackTM, a standalone disc of 20 face-melting tracks hand-chosen by the gods of metal themselves, is shipping to retailers nationwide. Available for the Xbox 360® video game and entertainment system from Microsoft, the PlayStation®3 computer entertainment system, the PlayStation®2 computer entertainment system and the WiiTM from Nintendo, the suggested retail price for Rock Band Metal Track Pack is $29.99.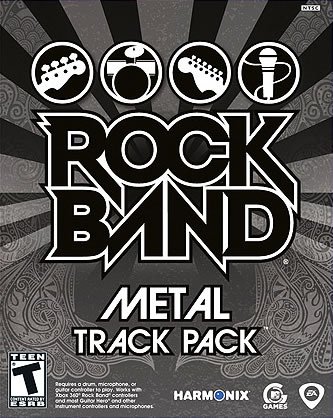 This collection of explosive songs represents a great variety of what the metal genre has to offer - past and present - including tracks from Black Tide, Evile, Godsmack, Lamb of God, Queen of the Stone Age and more! The Rock Band Metal Track Pack also includes six new songs brand new to the Rock Band platform from Blue Oyster Cult, Hawkwind, I Mother Earth, Motörhead, Nazareth and Rage Against the Machine. These six songs will be exclusive to the Rock Band Metal Track Pack for a limited time before joining the Rock Band Music Store as downloadable content.
Complete Track List
Artist - Song Title
All That Remains - Two Weeks
At the Gates - Blinded By Fear
Black Tide - ShockWave
Blue Oyster Cult - Transmaniacon MC*
Bullet For My Valentine - Waking the Demon
Children of Bodom - Are You Dead Yet
Evile - Thrasher
Godsmack - I Stand Alone
The Haunted - D.O.A.
Hawkwind - Master Of The Universe*
I Mother Earth - Levitate*
In This Moment - Forever
Judas Priest - Screaming for Vengeance
Lacuna Coil - Closer
Lamb of God - Laid to Rest
Motörhead - Killed by Death*
Nazareth - Hair of the Dog*
Queens of the Stone Age - 3's & 7's
Rage Against The Machine - Bulls On Parade*
Yngwie Malmsteen - Red Devil
* Denotes exclusive track
Rock Band Metal Track Pack, like all Rock Band software, is compatible with all Rock Band controllers, as well as most Guitar Hero® and authorized third-party controllers and microphones.
Fans who buy the Rock Band Metal Track Pack for Xbox 360 or PlayStation 3 system can play directly from the disc or download the songs onto their consoles' hard drives through a free offer with Xbox LIVE® online entertainment network or the PlayStation®Network. Once downloaded, the songs will automatically appear in the player's custom Rock Band library and can be integrated into setlists and played in all game modes. With more than 1,000 tracks expected to be available in the Rock Band music catalogue and regular releases of downloadable content every week by the end of 2009, Rock Band Metal Track Packis yet another way music-lovers can continue to expand and customize their music libraries.
The Rock Band franchise is the ultimate platform for music fans and gamers to interact with music like never before. The game challenges players to put together a band and tour for fame and fortune - all while learning to master lead/bass guitar, drums and vocals. Featuring the most master recordings of any music game ever by the world's biggest rock artists, the Rock Band music catalogue includes tracks that span every genre of rock, ranging from heavy metal to alternative and classic rock and punk.
Rock Band Metal Track Pack is rated "T" for Teen with a descriptor of Mild Lyrics by the ESRB. Rock Band and Rock Band 2 are currently available for Xbox 360, PlayStation 3, PlayStation 2 and Wii.
For more information on Rock Band and Harmonix Music Systems please visit www.rockband.com and www.harmonixmusic.com.
Leave a Reply
You must be logged in to post a comment.