We have updated the "Share This" section under all of the articles on DreamStation.cc to included 14+ different ways to share our articles with your friends and family.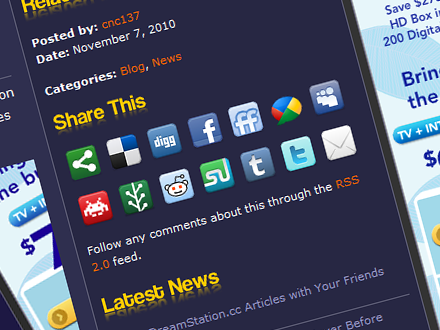 To share a DreamStation.cc article with someone you know or to save it for future reference, click one of the icons in the "Share This" section to pass it on or bookmark it.
The following services are current available via the icons:
We are using the ShareThis service to provide these icons and links. If you don't see a bookmark or share service icon that you use, then click the green ShareThis icon to find even more sharing options.
UPDATE: Decided to switch Technorati with Tumblr in the "Share This" section. Technorati's bookmarking feature is currently unavailable and Tumblr seems to be more popular at the moment. You can still get to Technorati's link via the green ShareThis icon if needed.
If you have any suggestions for new bookmarking or sharing sites that you don't see let us know in the comments below.
Comments [2]
Leave a Reply
You must be logged in to post a comment.