Atlus U.S.A., Inc. today unveiled the special deluxe package for the upcoming action RPG Shin Megami Tensei®: Devil Summoner®2: Raidou Kuzunoha vs. King Abaddon for PlayStation®2 computer entertainment system. Limited in quantity but not in quality (zing), this premium bundle is the ultimate SMT collectible and the centerpiece of the publisher's Atlus Spoils fan appreciation program. Each and every set includes SMT: Devil Summoner 2, the new chapter in the stunningly original action RPG series, and Raiho, the plushie that will steal your heart (if he doesn't try to eat your soul first).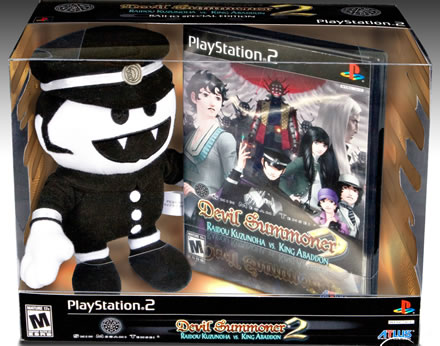 Improved over its predecessor in every way, Devil Summoner 2 is an action RPG breath of fresh air, with a deep, intuitive combat system, combined with nearly two hundred demons to negotiate with, collect, and fuse. Gamers will discover a variety of strategies to employ and master. Experience a 1920's Tokyo bustling with cases to solve, criminals to bring to justice, and the threat of the mysterious King Abaddon looming on the horizon.
Shin Megami Tensei: Devil Summoner 2: Raidou Kuzunoha vs. King Abaddon is scheduled to negotiate its way into retailers on May 12, 2009.
About Shin Megami Tensei: Devil Summoner 2: Raidou Kuzunoha versus King Abaddon
A new threat to Japan's Capital calls for the return of its case-solving, tube-slinging Devil Summoner: Raidou Kuzunoha the 14th. When a woman walks into the Narumi Detective Agency and asks to find a man, Raidou's boss is reluctant to accept, but soon it's clear there's more to the case than it seems on the surface. It isn't long before Raidou is on the trail of crooked gamblers, masked ninja, and strange insects… a trail leading him inexorably to the mysterious King Abaddon.
Key Features
Massively upgraded battle system - Advancements to the battle mechanics include a MAG balancing system, dodge and hide abilities, and the ability to command two demons in combat. Use the retooled Weapon Alchemy system to create new swords with unique special attacks.
Deeper demon integration - Demon negotiation returns with more than twice the number of demons to attempt to recruit to your side. Create more powerful demons through fusion and skill transfer. Control two demons in battle and choose from more tactical options.
Phenomenal creative team - The rich environment of this Taisho-era Japan comes to life with the character designs of Kazuma Kaneko and the musical score of Shoji Meguro.
Shin Megami Tensei: Devil Summoner 2: Raidou Kuzunoha versus King Abaddon has been rated "M" for Mature with Blood, Sexual Themes, and Violence by the ESRB.
For more details please visit the Official Shin Megami Tensei: Devil Summoner 2 Website.
Leave a Reply
You must be logged in to post a comment.