KARLSRUHE, Germany - October 27, 2010 Gameforge, Europe's leading independent publisher of online games, and CBS Consumer Products today released "Galaxy at War," the first cinematic trailer of the upcoming browser based free-to-play game Star Trek - Infinite Space set in the Star Trek: Deep Space Nine® timeline.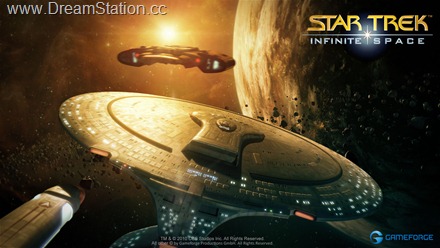 The trailer gives an emotional preview of the game's universe setting and the conflicts running deep between the factions. "The trailer focuses on one of the core features of Star Trek - Infinite Space, its epic space battles. Don't worry though, there will be many more elements to the game. It will offer a deep gaming experience," said Christian Braun, Executive Producer with Gameforge.
The trailer can be viewed and downloaded on http://www.startrek-is.com where a preview site welcomes fans from all over the world. This site will be the premier point of information for the game. It will be updated regularly with news and specials. The site also includes concept art and a discussion board. Interested players have the opportunity to apply for a coveted spot in the exclusive closed alpha testing program that will start months prior to the release.
"This trailer gives a first glance at the vision we all share. We have assembled a team of professionals to create a game that will set new standards for browser based multiplayer online games as well as satisfy the dreams of all trekkies who eagerly await," says Holger Broda Producer for Star Trek - Infinite Space.
Star Trek - Infinite Space is currently being developed by the award winning studio keen games based in Frankfurt, Germany.
Leave a Reply
You must be logged in to post a comment.