Time Management Mega-Hit Sequel Launches on G5e.com.
December 2nd, 2010-G5 Entertainment, known for its best-selling iPhone, iPad, PC and downloadable console games like Stand O'Food, Mahjongg Artifacts and Virtual City today announced that Supermarket Mania® 2 for PC is now available at www.g5e.com. Two years in the making, Supermarket Mania 2 is the highly anticipated sequel to one of the best-selling time management games ever. In addition to the full version of Supermarket Mania 2 available for $9.99, fans will also find a free trial version of the game at http://pc.g5e.com/try_84/.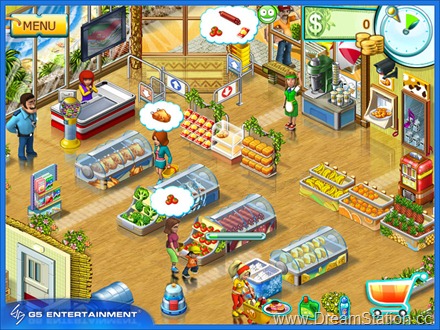 Supermarket Mania 2 is an entirely fresh experience with new graphics, new music, new customers, new devices, new game mechanics, and new special levels for hours of fun. Nikki and her friends Clarence, Wendy and Max are ready for adventure as they arrive in Tinseltown where Uncle Ross needs help with his troubled supermarket chain, and Mr. Torg is plotting revenge.
Master new game mechanics as you stock shelves, make milkshakes, brew coffee, bake croissants, squeeze fresh juice, and serve fresh pizza to keep your customers happy. Hire assistants to help you, purchase over two hundred equipment and décor upgrades, deliver goods in the neighborhood, battle shoplifters, and serve impatient celebrities. Open new stores in busy downtown, quiet suburbs, on sunny beach, the ski resort, and even in the tallest building in town! Play over eighty levels to achieve expert score, and watch the story unfold in front of you in beautifully-drawn comic-style pictures.
Supermarket Mania 2 System Requirements:
OS: Windows XP/Vista
CPU: 1.0 GHz
RAM: 256 MB
DirectX: 8.0
Hard Drive: 99 MB
Minimum screen resolution: 800×600
With millions of downloads, the original Supermarket Mania is one of the most popular time management games ever, and has been a hit on PlayStation®Portable, Nintendo DSi™, iPad and especially iPhone, where it has sold several hundred thousand units alone.
For more information, please visit the Supermarket Mania 2 home page at http://pc.g5e.com/games/supermarket_mania_2, G5Entertainment's YouTube channel at www.youtube.com/g5enter, or G5's Facebook page at www.facebook.com/g5games.
Leave a Reply
You must be logged in to post a comment.