Work out in the Comfort of Home with Pilates and Endurance Packs.
AGOURA HILLS, Calif., Mar 03, 2011 (BUSINESS WIRE) — Two downloadable packs announced today for THQ's The Biggest Loser Ultimate Workout let players keep their workouts challenging and fun:a Pilates pack and an Endurance pack. The Pilates pack is available now for a suggested price of 400 Microsoft Points on Xbox LIVE(R) Arcade for the Xbox 360(R) video game and entertainment system from Microsoft, featuring 16 new exercise moves that focus on the main values of the Pilates system. The Pilates pack also takes players into a new environment, The Biggest Loser Resort at Fitness Ridge in Malibu.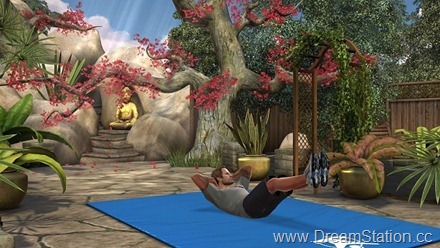 More details about the Endurance pack will follow in the coming weeks. It is planned for release prior to the finale of the current season of NBC's The Biggest Loser. The Biggest Loser Ultimate Workout is licensed through NBCUniversal Television Consumer Products Group and Reveille LLC. JTMG is the agency representative for NBC programming.
About The Biggest Loser Ultimate Workout
Utilizing the innovative technology offered by Kinect(TM), The Biggest Loser Ultimate Workout features a unique Body Scanner that analyzes players' bodies to recommend a personalized workout program, as well as offers controller-free gameplay, all-new workouts, interactive challenges, and delicious new recipes. The game also offers tools for players to build a motivational community both at home and online to promote health and wellness.
For more information about The Biggest Loser video game, please visit: http://www.biggestloserthegame.com or join the conversation at http://www.facebook.com/biggestloserthegame and for more information on other Biggest Loser products please visit http://www.biggestloser.com.
Leave a Reply
You must be logged in to post a comment.