Humble Indie Bundle V has been released and is available at whatever price you want to pay with the proceeds going to the developers or charity.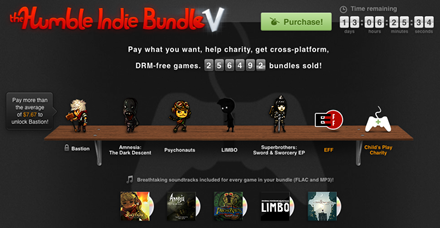 The video game bundle features the following games for Windows, Mac, and Linux along with their soundtracks:
Amnesia: The Dark Descent
LIMBO
Psychonauts
Superbrothers: Sword & Sworcery EP
Bastion – If you pay more than the average price.

Humble Indie Bundle V
If you bought all these games and soundtracks separately, it would cost around $110. Instead of charging that much they are letting you set the price. Plus, if you pay more than $1.00 you will get a Steam key in addition to the DRM-free direct donwloads.
You can also choose how your purchase is divided: between the developers, the Child's Play Charity, or the Electronic Frontier Foundation.
For more information or to purchase The Humble Indie Bundle V visit the official website at www.HumbleBundle.com.
Leave a Reply
You must be logged in to post a comment.