Stratusphere Yoga goes digital with a new approach to the popular fitness line of games for the Wii console.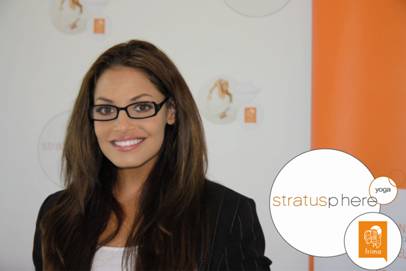 Trish Stratus, former professional wrestling champion (WWE) and fitness model was at Frima Studio's office to announce the development of Stratusphere, a new Wii game in which she will be starring. Using the Wii balance board and other new and innovative Wii peripheral devices, the diva will be coaching the players along in a complete and tough routine in a Zen 3D background.
"We wanted to present yoga as a real workout and not only as a method of relaxing. Combining Trish Stratus as a personal coach, coupled with her yoga experience, players will have to work through challenging routines to get results! Isn't that what working out is all about?" concludes Frima's CEO, Steve Couture.
Produced entirely in Frima's Studios, with collaboration from Roundhouse Interactive's President Michael Montanaro, the game will feature several video segments and take approximately six months of development. With major publishers showing interest, Frima is yet to make a choice and still open to new offers as development is slated to start in a few weeks. The title would be available for Q2 2010.
About Frima Studio
Frima Studio is an important game developer based in Quebec City, Canada. Since 2003, the company has been developing countless world-class products for the Web, console, handheld, TV and mobile markets. On the leading edge of independent video game studios, our company is focused on building next-generation MMOs for children. Frima's clients include world-renowned names such as Build-A-Bear Workshop, Warner Brothers and Nickelodeon. With over 250 artists and programmers to develop our products, Frima produces high-caliber games that are as remarkably outstanding artistically as they are technically.
Leave a Reply
You must be logged in to post a comment.