TRON Video Game Portfolio Release Date Set for December 7, 2010 in North America.
BURBANK, Calif. — (August 30, 2010) – Disney Interactive Studios today announced a collector's edition of TRON: Evolution will be available at retail. The TRON: Evolution collector's edition package will include an exclusive TRON light cycle collectible based on the in-game model from TRON: Evolution. The light cycle model is being created by renowned collectibles manufacturer Sideshow Collectibles. Available for the Xbox 360® video game and entertainment system from Microsoft and PlayStation®3 computer entertainment system, the collector's edition will be packaged in a special protective casing with a drawer for the game.
The company also announced December 7 as the North American release date for all its TRON: Evolution video games on popular platforms. TRON: Evolution games will be available for Xbox 360, PlayStation 3 system, Wii™, Windows PC, Nintendo DS™ and PSP® (PlayStation®Portable) system. The Wii game's title is TRON: Evolution – Battle Grids.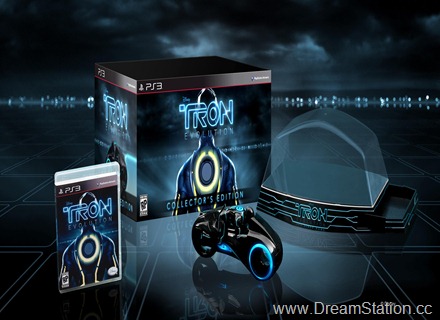 The TRON: Evolution collector's edition will only be available in limited quantities and will have a suggested retail price of $129.99 in North America. The collector's edition will be available on December 7 with the rest of the TRON: Evolution video game portfolio before the "TRON: Legacy" film hits U.S. theaters on December 17 in Disney Digital 3D™ and IMAX® 3D.
Developed by Propaganda Games, Disney Interactive Studios' action and role-playing game studio in Vancouver, British Columbia,TRON: Evolution is set during the era between the two TRON films, "TRON" (1982) and "TRON: Legacy." TRON: Evolution conveys the story of significant events within the TRON mythology. The game features an epic adventure across a massive digital world filled with high-mobility disc-based combat and advanced light cycles.
TRON: Evolution is one of the keys to unlocking the TRON mythology. The game's story takes place before the "TRON: Legacy" events and provides insight into the film's past. As an integrated entertainment experience, the film will reference elements of the game's story. Fans will want to play the game to learn more about the TRON mythology seen in the film, but each entertainment experience will stand on its own.
"TRON has proven to be a franchise that inspires loyal fans and collectors and will continue with the holiday's new entries," said Craig Relyea, senior vice president of global marketing, Disney Interactive Studios. "This collector's edition will give fans of TRON: Evolutionand the TRON movies a great opportunity to not only get the game but also a unique TRON collectible."
TRON: Evolution is Rating Pending from the Entertainment Software Rating Board (ESRB).
Disney Mobile's TRON app (www.itunes.com/app/tron) for the iPhone® and iPod® touch is free to download and features an all-new version of the classic Tanks game from the Tron Arcade.  The app also features "TRON: Legacy" trailers, pre-sale order information for the TRON: Evolution game, and it will be updated as the premiere of the "TRON: Legacy" film in December draws closer with additional video, music, and free and premium games.
About "TRON: Legacy"
"TRON: Legacy" is a 3D high-tech adventure set in a digital world that's unlike anything ever captured on the big screen. Sam Flynn (Garrett Hedlund), the tech-savvy 27-year-old son of Kevin Flynn (Jeff Bridges), looks into his father's disappearance and finds himself pulled into the digital world of TRON where his father has been living for 25 years. Along with Kevin's loyal confidant Quorra (Olivia Wilde), father and son embark on a life-and-death journey of escape across a visually-stunning cyber universe that has become far more advanced and exceedingly dangerous. "TRON: Legacy" is scheduled to arrive in theaters on December 17, 2010.
Leave a Reply
You must be logged in to post a comment.