On April 6, 2010, Microsoft will be releasing a system update over Xbox LIVE for your Xbox 360 that will allow USB flash drives to be used for storing profiles, game saves, demos, and more. After updating your system you will be able to connect up to two 1GB to 16GB USB flash drives to your console and access the Storage Devices section to configure them as new storage devices.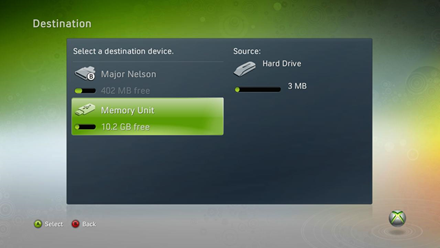 More screenshots are available in Major Nelson's Xbox 360 USB Mass Storage Support Flickr Album.
Microsoft has also enhanced the memory management functions, so you will be able to have better control of what you want to copy or move between storage devices.
Additional Information
2 USB flash drives can be connected to the Xbox 360 at the same time, allowing up to 32GB of simultaneous storage.
You need to configure the USB flash drive under the memory area of the system settings before it will work.
You will have two options available for configuring the drive:

Configure Now - Format and configure the full device.
Customize - You choose how much memory you want configured for Xbox360 from the free space on the device.
Any USB flash drive can be used for this new feature, but Microsoft will be partnering with SanDisk to release an Xbox 360 branded USB flash drive in May 2010 that comes pre-configured out of the box and ready to be used with your Xbox 360.
Leave a Reply
You must be logged in to post a comment.