Pokémon and Nintendo Offer Special Pokéwalker Route Distribution for a Limited Time.
The Pokémon Company International and Nintendo of America Inc. will distribute the Winner's Path Route for the Pokéwalker™ accessory via the Nintendo® Wi-Fi Connection service.  Beginning Thursday, May 6 through Friday, June 25, players of Pokémon HeartGold or Pokémon SoulSilver Versions who have wireless broadband Internet access will have the opportunity to unlock a new Route, which gives them a chance to discover extraordinary Pokémon and rare items particularly useful to the competitive Pokémon Trainer.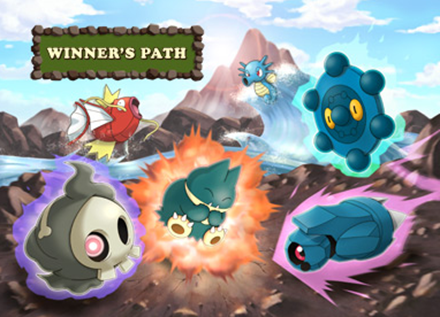 Pokémon fans who earn enough Watts on the Winner's Path Route might discover a Munchlax that knows Selfdestruct, and useful items such as the Focus Sash and Choice Band. They may even find a Magikarp™ that learns the move Bounce when it evolves into Gyarados™. All Pokémon captured in the Pokéwalker will be holding useful items that are difficult to attain during normal gameplay.
This unique distribution event is only available for a short time and may provide players with the edge needed to outplay their opponents during the 2010 Pokémon Video Game Championships. For more information about championship events or Pokéwalker distribution, players should visit www.pokemon.com.
About the Pokéwalker
The Pokéwalker accessory is a small device that lets players take their favorite Pokémon with them wherever they go. Players can transfer a Pokémon to the Pokéwalker and then simply walk around in real life. By walking, players earn Watts that can be used to encounter and catch wild Pokémon, or search for hidden items. The Pokémon in the Pokéwalker will gain Experience Points as the player walks, and can even go up one level when they are transferred back into the game.
Leave a Reply
You must be logged in to post a comment.