I had pre-ordered the PS Vita from Amazon.com a few weeks ago and when we were contacted to see if we wanted to review Plants vs. Zombies I gladly accepted. My son and I had played the game on Xbox 360 and PlayStation 3 and we enjoyed it, so I figured the PlayStation Vita version of Plants vs. Zombies would be just as good. Plus, getting a free PlayStation Store game for my shiny new system didn't hurt.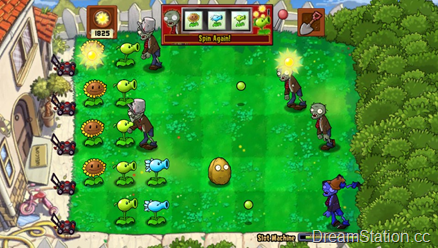 When my PS Vita arrived I unboxed it and tried out the different built-in features before diving into the PlayStation Store to download Plants vs. Zombies; the augmented reality (AR) games; the free Twitter, Flickr, and Netflix apps; and a bunch of demos. I played the system over the past week when I had some free time here and there and have to admit that I gravitated towards Plants vs. Zombies the most.
I beat the main Adventure mode last night, which wasn't super long, but there are other Puzzle, Survival, and Mini Game modes for you to enjoy once you are done with the main game. You can actually restart the Adventure mode and play it again to earn more money to buy more plants and other items.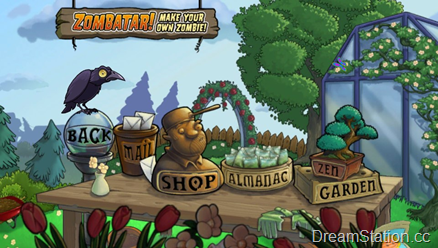 Speaking of items, there is a Zen Garden mode, which will allow you to care for plants by watering, fertilizing, and spraying them for bugs as they earn you money to buy more plants for use in the game and in the Zen Garden. This mode reminded me of games like Nintendogs or the old Tamagotchi toys that make you take care of your virtual pets. The Zen Garden mode is a nice diversion, but I doubt you will spend hours playing it per day.
Playing Plants vs. Zombies for hours could happen though, since it is addictive and the graphics on the PS Vita OLED screen are really crisp and vibrant. The plants and zombies are well animated and the whole game has a very bright and colorful appearance, which is kind of odd being that it is a game about zombies trying to eat your brains. Plants vs. Zombies never takes itself too seriously and that is what makes it so fun to play. The characters will make you laugh or at least bring a smile to your face every time you play.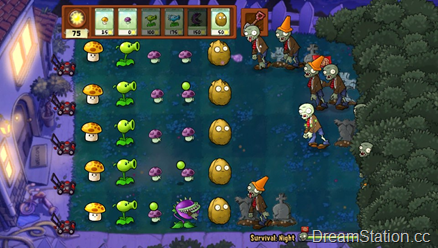 Continuing the fun zombie theme is the music, which mixes synthesized piano that sounds like what you would expect in a scary movie, but with a lighter feel that is less moody and more upbeat. The sound effects are also entertaining. Plan on hearing the word "brains" a few times along with chewing sounds as the zombies try to eat through your plants to get to your brains.
I guess so far I have failed to mention the actual object of Plants vs. Zombies. The basic premise of the game is to grow plants in the front yard, backyard, pool, and on the roof of your house to try to stop the onslaught of zombies trying to get into your house. You have multiple spots in each row to plant your horticultural masterpiece to destroy the zombies. Harvesting the sun allows you to plant more plants before the zombies come and eat your brains. Plants vs. Zombies is a tower defense game with plants and zombies or you could also say it is a very simple Command & Conquer or Starcraft real-time strategy game.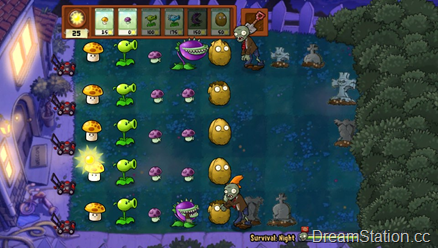 Planting your army of vegetation in Plants vs. Zombies is totally controlled with the touch screen in the default configuration. You can switch the controls to use the digital pad and buttons if you don't want to get fingerprints all over your PS Vita's OLED screen. I played the game the whole time with the touch screen and I think that is how the developers wanted you to experience it.
Plants vs. Zombies doesn't take advantage of all the control options of the PS Vita, but you can tilt the system to pick up the suns instead of touching them if you like. I chose to tilt the system instead of touching the suns, but I found myself rocking the system back and forth the whole time I was playing, since you don't know when the suns will appear.
I tried one level using the digital pad and buttons and the difficulty level seemed higher using this control scheme, especially if you turn the tilt to collect suns option off. Doing this requires that you move the cursor around the screen to plant and collect the suns. This control scheme matches the Plants vs. Zombies experience on the Xbox 360 and PS3. If you want to play like you would on your home console then you have that option.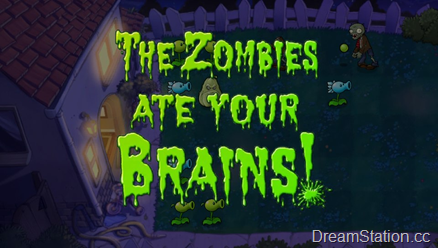 The only disappointing thing about Plants vs. Zombies for PlayStation Vita is the price. If you own an iPhone, iPod touch or Android device then you can experience it for $12.00 less. The game for these devices is $2.99 as of this writing and it is $6.99 for the iPad version. I think this is the nature of the PlayStation Store and its pricing structure, but it is hard to recommend it for PS Vita if you own one of the other devices that have it for less.
Final Verdict
Plants vs. Zombies for PS Vita doesn't have the latest 3D graphics or offer you an amazing digital surround sound experience, but what it will offer you is amusing and addictive gameplay that will keep you coming back for more. The game is the perfect pick up and play game for short periods of time, but don't be surprised if fifteen minutes turns into an hour or more once you get started. If you have never played Plants vs. Zombies and need a new game for your PS Vita then I definitely recommend downloading it from the PlayStation Store.
Score
Comments [1]
Leave a Reply
You must be logged in to post a comment.