From the makers of Tecmo Bowl comes a football game that seems to be more focused on getting the whole family involved. When I initially received my copy of Family Fun Football, I got the feeling from the back of the box that all this game would be is a bunch of mini games. Thankfully this is not the case and there is actual football to be played. Family Fun Football takes the football games such as Madden and dumbs it down to the point where even first time gamers can pick it up and play together. This game is genuinely quite fun but it does have some downfalls.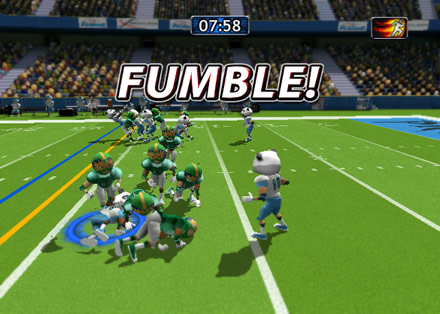 First of all let me start off by saying that this is not in any way similar, nor should it be compared to Tecmo Bowl. Tecmo Bowl was a classic football game that will live in my heart forever, but this title is geared directly at getting a whole family together for some simple fun. The main way that this title has been simplified is by reducing the number of plays in the game to four. The offense chooses from four plays and the defense chooses which play to defend against. The controls take a little bit of getting used to, but once you know what you are doing the game flows nicely. At half-time you are treated to one of 10 mini-games which are at least decently fun, but seem to lack purpose other than to have a break from a standard football game and give players another chance to earn a power-up.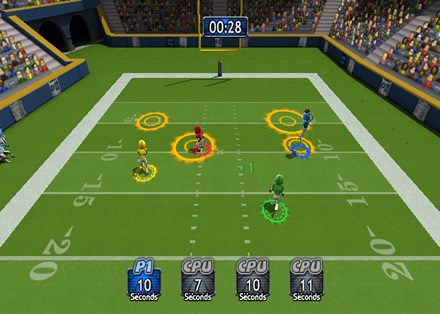 The graphics are pretty much what I expect from a Wii title, not too polished or pretty but it runs smooth. The sounds in this game are not bad nor are they good. However, I did enjoy hearing some of the sounds come from the Wii remote.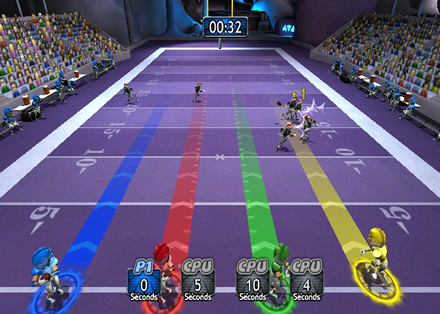 There are a small variety of game modes to choose from. First, there is quick play which simply is how you create a quick exhibition game. Second, is season, which allows you to select a team and play through a football season with that team. Third, is tournament, which is a double elimination tournament style play. Finally, there are mini-games which allow you to play through any of the 10 mini-games included in the title.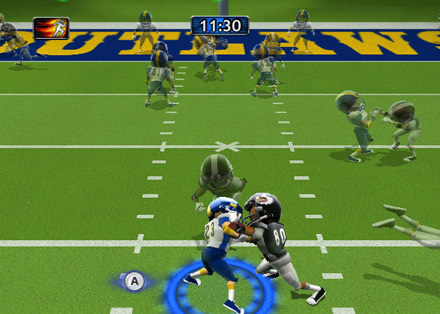 The gameplay incorporates three power ups that can be earned through successfully sacking the QB, scoring a touchdown, or successfully winning the half-time mini game. These power-ups are super strength, which knocks down all opponents near you, super speed, which gives the player a burst of speed, and super accuracy, giving the player a more accurate throw or if you are on defense giving you a better chance of intercepting the ball. Family Fun Football also has some unlockable teams, and mascots that adds somewhat to the replay value.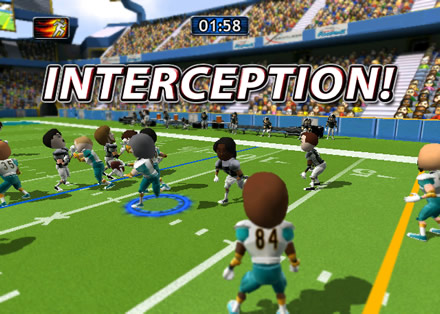 Final Verdict
Overall Family Fun Football is great fun for the whole family. However, if you are expecting another Tecmo bowl from this title you will be disappointed. This game is best played with friends and family, playing this title alone is not nearly as fun as the multiplayer.
Score
Leave a Reply
You must be logged in to post a comment.