How To Train Your Dragon puts you in the shoes of Hiccup or Astrid as you train your dragons to fight in arena matches with you. This game is highly geared toward kids and shows that in the gameplay. Can it tame your kid giving you a break?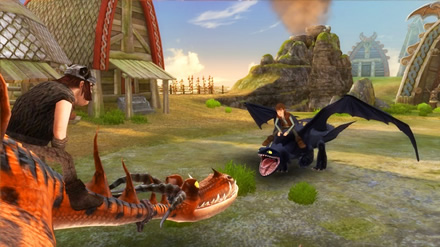 How To Train Your Dragon is broken down into three games. Each type of game takes up a good amount of time. First, you have the free roaming exploration mode which allows the player to pickup and collect items throughout the world and take quests and complete quests. Second, you have the training mode which allows the player to bring dragons into a training arena and repeat the same tasks over and over with each dragon. This becomes very boring very quickly, unfortunately its one of the only ways to level up your dragons. In this category you also have the challenge room which basically includes a few mini games you can play that give you experience and a few items you can feed your dragon. The third game in How To Train Your Dragon is the tournament arena which is where you fight dragons in an arena until you defeat the top dragon.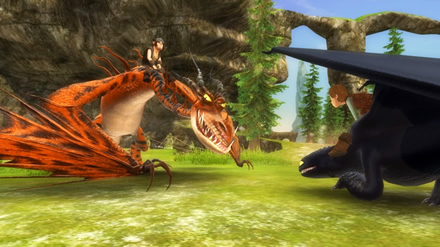 This game is riddled with repetition so much that I could not bare to repeat all the identical training exercises with all my dragons. I think for each type of dragon they should have made the training unique and, like in the movie, each dragon should have unique moves and abilities. Unfortunately, the only difference between the dragons are what the limit for their stats are, and how they visually look. You can have up to 4 dragons at a time in How To Train your Dragon and in order to maximize each of them you need to complete all training exercises 4 times; once for each of them. The exploration part of the game is very limited as the wilds are small and the town is fairly small as well. So you end up farming the same areas as the items respawn just so you can feed your dragons.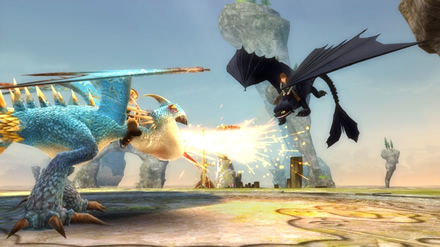 The tournament mode in How To Train Your Dragon is uninspired as you tap random buttons at an enemy that seems to lack much sense. The overall feeling of the combat is lackluster and disappointing. After watching the movie, I can say that the game doesn't really follow the movie at all and if anything may take place after the events of the movie. My main issue with games based on movies is that they always seem to be rush jobs that lack any entertaining value. Unfortunately, How To Train Your Dragon is no exception and really leaves me wanting more from the game. Even though this game is more geared toward children I am not entirely sure this would entertain a child for more then 30 minutes or so. The only really good things I can say about this game is that the graphics are true to the movie, and that the controls are simple and easy to use.
Final Verdict
If your kid is absolutely crazy about How To Train Your Dragon he may get a few hours of enjoyment out of this game. Unfortunately, this title quickly becomes boring and mundane.
Score
Leave a Reply
You must be logged in to post a comment.