Might and Magic: Clash of Heroes is one of the most surprising games I have played in a long time. I had no idea what to expect when I began playing the game. It carries the Might and Magic name, which didn't exactly prepare me for the game I was about to play. Might and Magic: Clash of Heroes is one of the better games I have played on the DS in some time.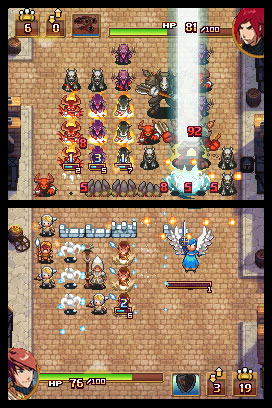 Might and Magic: Clash of Heroes is a true hybrid game made up of several different types. The presentation of the game is standard RPG style. Move your characters around a map, complete quests and progress the story. The means to progress this story is where things get interesting. Combat is handled by an incredibly fun and deep puzzle/strategy game. It's difficult to explain, but the top screen of the DS shows your enemy and his units, while the bottom screen of the DS shows yours.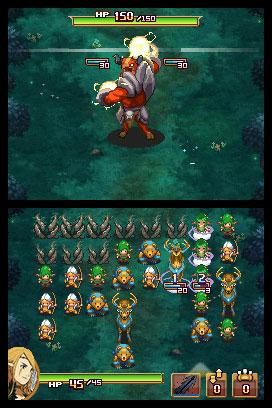 The goal of the game is to position your units together in certain combinations to unleash powerful attacks, or create walls to stop your opponent's attacks. As units unleash attacks and get destroyed, the units behind them "fall" to the frontline in standard puzzle gaming fashion. There are 5 different "nations" each with their own units and play style to master and the story modes have you spend time with each one. As you progress, you get more units and can customize a strategy for battles. The initial layout of your units is random, which is good and bad. Sometimes your units are just in a bad place and you can get blown out by the opponent and there's not much you can do.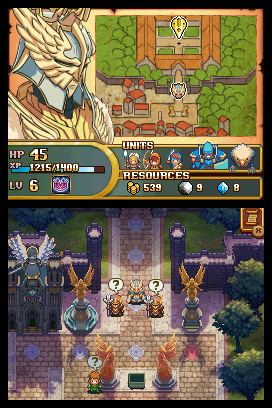 The story mode in Might and Magic: Clash of Heroes is quite lengthy clocking in at 20+ hours if you don't bother with side quests. There is also a multiplayer option for friends who have a copy of the game. Since army customization is a big part of the game, this leads itself to a fun multiplayer experience. No online modes are available at this time.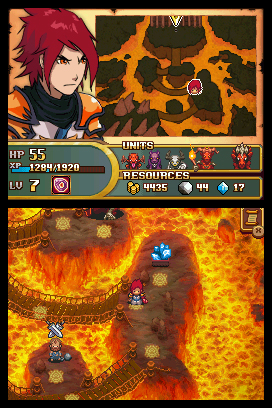 The overall visual and audio package does a nice job of presenting the story and giving the player a nice interface to get from battle to battle. The graphic layout is bright and colorful and has an anime style to the character designs. This is pleasant enough but it doesn't leave any lasting memories and the graphics are good but nothing you haven't seen before. Same could be said for the sound selection.
Final Verdict
I have very few gripes about Might and Magic: Clash of Heroes. It is an RPG style game, so I always like a little bit of character customization, but based on the story and game play I can see why the designers went this route, giving you direct control of the main characters of the story. Sometimes the random nature of the battle gets the best of you and you are stuck in a losing situation. This can be a little frustrating but does not take away from the otherwise fantastic experience.
Score
Comments [1]
Leave a Reply
You must be logged in to post a comment.