I personally have played dozens upon dozens of iterations of the popular Space Invaders series. Each one seems to add a different twist to the game without really messing with the mechanics of it. Space Invaders Extreme 2 is no exception to that rule. When you first start playing this game you will realize a few things, first of all you have infinite lives for your first play through, secondly that you are making music as you blow up enemies.
So my initial play through of this game took roughly 15 minutes. It was fast and furious alien killing fun. However, the infinite lives made it too easy for me. So, on my second play through a second path was unlocked and I only had 3 lives now. On top of that, I didn't seem to be able to earn bonus lives, which made the second play through extremely difficult. If you complete the second play through there is one final path that unlocks which is even harder than the prior.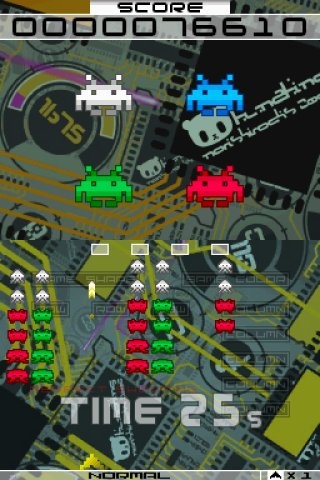 The gameplay is fast, furious, and very fun and to say the least addictive. Another feature in this version of Space Invaders is that aliens appear on both the top and bottom screens, however, the aliens on the top screen appear only during bonus rounds. If all the aliens are defeated on the top screen within a certain amount of time you enter a "fever" mode giving you bonus points for every alien killed during the duration.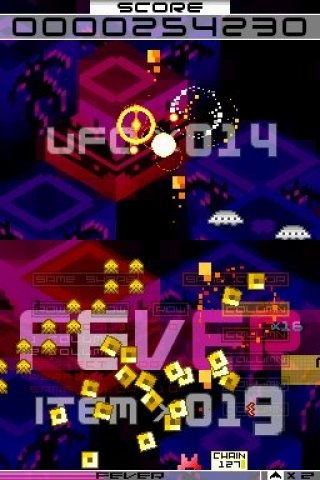 The modes available in Space Invaders Extreme 2 consist of score attack, time attack, and 2-player versus. There is honestly little difference between score attack and time attack except that in time attack you want to finish the stages as quickly as possible, and in score attack you simply want the highest score. I originally expected time attack to have a countdown timer that you have to beat for each stage instead of just a final total completion time score. It would have been nice to see a 2-player co-op mode in multiplayer allowing you and a buddy to attempt the hardest levels together.
The graphics are true to the franchise, and the abilities and power ups are fun to use and really add to the game. The sound in this game is absolutely fantastic and pulls you into the action.
Final Verdict
My biggest complaints about Space Invaders Extreme 2 are that the branches are fairly short (only about 5 levels long each), and the game really lacks many options as far as new and exciting game modes. Otherwise, playing through the same branches over again can sometimes become repetitive but it is still fun to attempt to beat your old score.
Score
Leave a Reply
You must be logged in to post a comment.