The Wii seems to be missing a genre key to the success of a console in many a hardcore gamers eyes; the role playing game. It's good for the hardcore gamer then, that Arc Rise Fantasia is here to fill that 40-50 hour void. You play the role of L'arc Bright Lagoon a mercenary who finds himself stranded in a forest where he happens upon a  beautiful young lady who seems out of her element. Once he gets himself involved with her it's off to save the world. Arc Rise has all the ingredients for a typical and successful RPG so, if that's what you're seeking, look in this direction. Reluctant hero with giant oversized sword? Check. Naive, but sweet and cute female counterpart? Check. Betrayal by a once loyal friend. Check. Oh, it's all here and there's a lot more, but in the end does Arc Rise Fantasia raise the game or does it fall flat?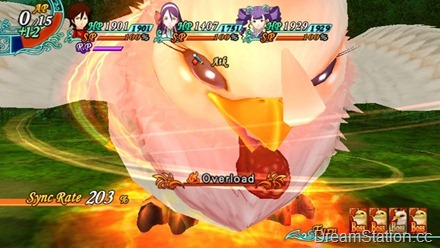 Playing Arc Rise Fantasia on the Wii after playing something on either of the other two consoles makes you realize just how severely underpowered the Wii is for a game like this. It just doesn't measure up, but this review is not a comparison to other games as much as it is a critique on the game itself, as any review should be. Visually the game lacks the punch that it could have. The characters are good looking, the backgrounds are not. Boring enemies that repeat with nothing more than a pallette swap is standard RPG fare, but when the game features little more than a single handful of 'various' enemies per area, it gets tiresome fast.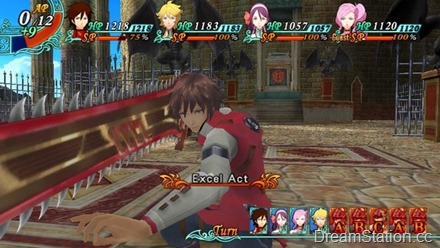 A stark contrast to the bland graphics is the nice soundtrack Arc Rise Fantasia features. The music is nice and on the occasion when the lead female character sings in battle, it is also pleasant to hear. The voice acting is, however, borderline terrible. Lines are delivered with little to no emotion and the writing sometimes makes no sense. Maybe the subtleties of the dialog are lost in translation or maybe voice over work just isn't the foremost concern for certain games. That said, the rest of the game makes up for the shortcomings of the audio and visual components.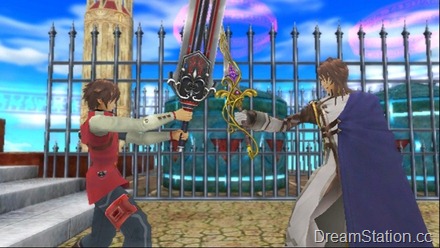 Speaking of which, one of the more interesting features is the combat where enemies get taken down in any of a number of ways. Your party is a basic group of three and the occasional guest joins you to make it a temporary foursome. Combine physical attacks to dispatch enemies faster, combine your special attacks and then watch a super special attack get rid of stronger enemies, or combine magic for, you guessed it, even stronger magic. Learning all the techniques will aid you in your quest immensely because as you progress weapons found don't make you stronger, they actually have no stats at all, instead they offer you further abilities. Unlocking them will provide you more of a challenge, but the fruits of your labor will provide invaluable.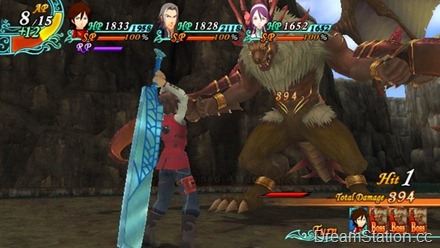 Just prepare to make like a coffee grinder at a cafe because you will need to grind a lot during the latter half of the game to even stay alive during boss battles. Even at what I considered to be high levels, I found my characters dying rather easily to bosses. A big part of that is because the magic system is rather complex and magic points come at a real premium. Still, the combat is interesting and the weapon system keeps the game feeling fresh as you try to combine the best abilities to create the ultimate weapon and character. Arc Rise Fantasia is a solid game despite its few flaws. You will find yourself wanting to see the game through to the end because, while the game has the usual RPG convoluted story, a lot of the other features are quite redeeming.
Final Verdict
Arc Rise Fantasia isn't anything that hasn't really been done before, but that doesn't mean that the game isn't worthy of at the very least a look. Besides what was the last truly groundbreaking RPG? If you have a Wii and are craving an epic RPG to take up a lot of your time with a good story, plenty of action and sidequests to enjoy, then Are Rise Fantasia will definitely fit the bill. A pretty hefty game, expect to spend a good 50 hours or so on Arc Rise (or more if you want to complete all the games extras), so you'll get your moneys worth.
Score
Leave a Reply
You must be logged in to post a comment.