Last night my son and I sat down to carve pumpkins for Halloween and I always try to make them with a unique theme.  My son is going to be a Goomba this year for Halloween, since my wife (with a little help from me) made him a Goomba Halloween costume.  Halloween is also my son's birthday and we have been planning a New Super Mario Bros. themed birthday party and I thought this would be a good theme for our pumpkins too.
So, without further ado, I present the Super Mario and Goomba pumpkins!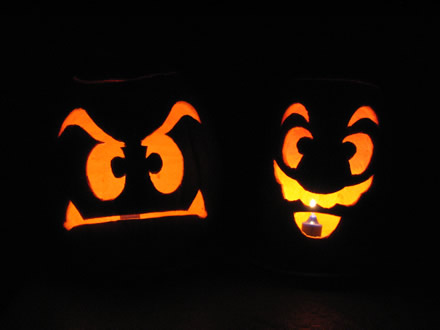 I created these pumpkins from scratch using the tools and inspiration shown in the picture below.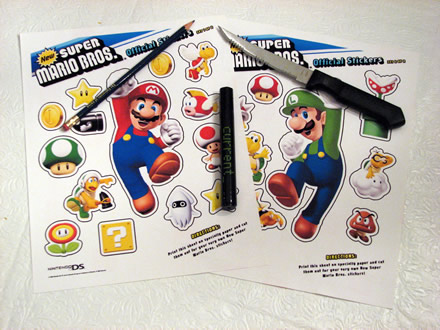 I referenced the pictures from the stickers you can print out from the New Super Mario Bros. website and drew the faces on the pumpkins freehand with a pencil.  After that I took the permanent black marker and went over the pencil lines to define better where I needed to cut.  Lastly, I used a steak knife (not the best tool for the job) to carve out the eyes, mouths, and Mario's mustache and sculpted the insides of the holes in the pumpkins to allow the maximum amount of light to shine through.
The end results of the Super Mario and Goomba pumpkins with the lights on are as follows: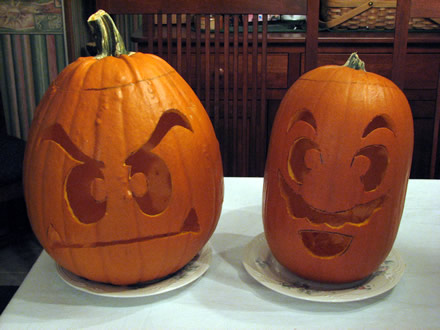 You can still see a little of the black marker where I outlined where I needed to cut, but none of that shows up in the dark.  My son and I are happy with how they turned out and I hope all the trick-or-treaters enjoy them when they stop by our house for Halloween this year.
Comments [2]
Leave a Reply
You must be logged in to post a comment.