Winner Will Receive EVE Online Caldari Raven Battleship.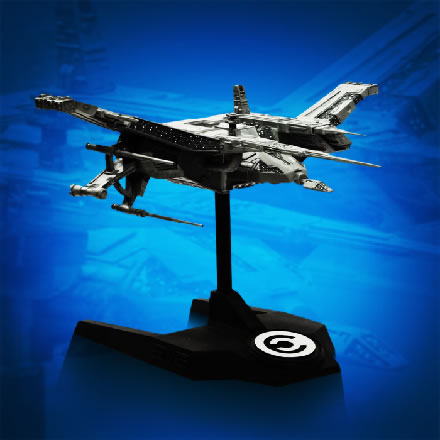 AUSTIN, Texas–(BUSINESS WIRE)–The Get-Well Gamers Foundation, a public charity dedicated to bringing electronic entertainment to children in healthcare facilities, will award a grand prize to the winner of a raffle draw taking place on the closing day of the Austin Game Developers Conference (AGDC), (Austin, TX, September 15-18, 2009). Proceeds from all ticket sales will be used to bring video game systems and games to children's hospitals across the nation. The lucky winner will receive a Caldari Raven battleship, donated by CCP, the creator of EVE Online.
Contest details:
Sales open Wednesday, September 15 through to 1:59pm CT on Friday, September 18, 2009. Final drawing scheduled for Friday, September 18 at 2:00pm at the CCP Games booth #306 (entrants do not need to be present at the booth to win).
Ticket sales:
Purchase (in-person) at the Austin Game Developers Conference (booth #306) or visit http://www.tinyurl.com/getwellgamers, and complete the brief donation form, entering "Raven Raffle" in the Designation field to participate in the raffle.
Ticket price:
$5.00/each (all proceeds going to the Get-Well Gamers Foundation).
"The Get-Well Gamers Foundation is thriving, thanks to the continued support of people like CCP," said Ryan Sharpe, President, Get-Well Gamers Foundation. "This is the second year in a row they have stepped forward with a truly inspired initiative that we know will really get the gaming community motivated as we move toward that most crucial time of year - the holiday season. With their generosity, we will be able to help all the hospitals and treatment facilities in our network, not just the most needy."
About Get-Well Gamers
The Get-Well Gamers Foundation is a California-based 501c(3)-certified public charity dedicated to bringing electronic entertainment to children's hospitals for the benefit of entertainment and pain management since 2001. The Foundation currently serves 76 hospitals in 46 states. For more information, please visit www.get-well-gamers.org.
About CCP
CCP is widely recognized as an industry-leading pioneer of the single-server persistent universe architecture as the developer and publisher of EVE Online, the critically-acclaimed, science fiction-based massively multiplayer online game (MMOG). Utilizing a cross-discipline approach combining cutting-edge technology and artistic excellence, CCP is dedicated to providing vibrant, compelling products that transcend the boundaries of conventional MMOGs and facilitate social networking through virtual worlds. Privately held and founded in Reykjavik, Iceland in 1997, CCP's international reach now spans the globe with offices in Atlanta and Shanghai as well as a base of operations in London. More information about CCP is available at the company's Web site, www.ccpgames.com.
Leave a Reply
You must be logged in to post a comment.